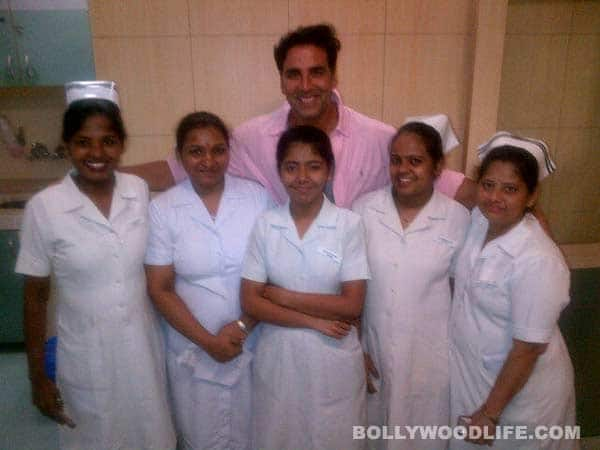 We were all delighted to hear about the birth of Akshay and Twinkle's lovely new daughter. But there's one li'l guy who has a very good reason to grin
Akshay Kumar is a happy father again. And his khushi is dripping from every statement he makes while talking about the brand new lady in his life. So what's the latest?
After the buzz about Akki flying down from Jaipur to be by his wifey's side during the delivery, the Rowdy Rathore actor revealed that the li'l one looks like his saasu ma Dimple Kapadia and biwi Twinkle Khanna. And adding some more warmth to it all the proud Daddy added, "He (10-year-old Aarav) can't wait to take on the role and responsibilities of a big brother." Awwwww!
What's more, to give us a sneak peek into their lives, AK has even tweeted a pic (see above) of himself with the sisters of the maternity ward at Breach Candy hospital, Mumbai. Gosh, doesn't Mr Khiladi look flushed with happiness here! "There is no greater feeling in life than holding ur Baby for the first time. I wish I could express more about how HAPPY I am right now, but I'm at a loss of words….I must Thank You all for ur love during this special time in my life – Proud Papa :)," Akki tweeted. Wow! And it only makes us crave a glimpse of Mommy Twinkle with her baby doll. Hai na?
All this fussing around your newborn has really managed to tug at our heartstrings, Akshay. And we can almost feel the joy prevalent in the Kumar and Khanna households right now. Cho chweet these memories are. Aren't they, peeps?