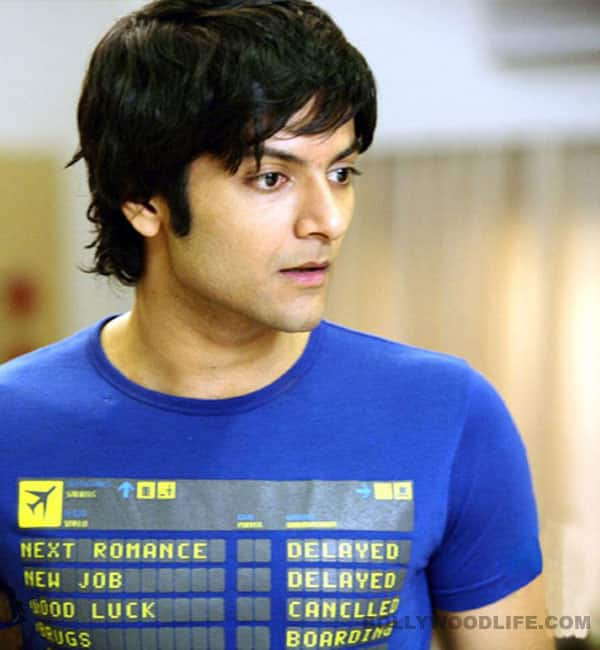 Bobby Jasoos released yesterday and we caught up with the lead actor of the film Ali Fazal. Lets get to know what Ali has to say about the Vidya Balan starrer detective saga…
Ali Fazal started his filmy journey with a small role in Aamir Khan's 3 Idiots, but very soon moved ahead to do some great roles in films like Fukrey and Fast & Furious 7. His latest release, the Vidya Balan starrer Bobby Jasoos, has been getting good reviews all across. We caught up with him for a small chit chat. Excerpts from the interview…
Lets begin with the fact that people have been commenting about your odd pairing with Vidya Balan. Does that fact ever strike you or do you leave all of that aside and focus more on the acting?
You know, the fact never really hit me till after the movie when people started asking me this question. Throughout the process of making the movie, the attention never ever goes towards that side. I think the focus of the film was not about the pairing but about the very old world charm of the romance that the two characters share. I have had people who have also walked out of the theatre and told me that the story is so gripping that their attention never ever went towards the odd pairing part. Once people see the movie then only they will get to know. I totally agree with the fact that I am young and she is quite experienced and very senior to me in the industry but once you see the film, you may not notice the oddity of the pairing because of the gripping script. In the film she looks way more younger than me and that's the trait of a great actor that Vidya is.
Romancing Vidya Balan would have been difficult?
See somewhere as an actor I have to shed that inhibition of romancing someone. It's not the fact that she is elder to me or she is a married women. When I start working with someone then that comfort level has to be there so that people watching the film may never get to know that these two people have met for the first time when they are doing these intimate scenes. But yeah I guess, there was a scene in the song Tu where I had to lie down right next to her and I was a bit scared at that point. Vidya was very sporty and I guess that's why all of it went pretty well.
Vidya Balan had never seen your work before. How do you feel about that?
Yeah I know. She told me that she hadn't seen my films before but the good part was that she had done all her jasoosi on me before the film started. She knew me better than I knew myself. She read about me wherever possible and when we finally met she was like fully loaded with information about me. She told me that she had heard of Fukrey but couldn't get the chance to see it and she promised me that she will see it soon.
People brand this film as a Vidya Balan film and not a Ali Fazal-Vidya Balan film despite you having the solo lead. How do you react to the same?
In fact it is. It is a Vidya Balan film. It is the story of  girl who is trying to break shackles and wants to do something different so that people will notice her. It's her journey of becoming a detective and her journey of finding love.
Talking about Fukrey, when the movie became a hit people started giving all the credit to Varun Sharma and Pulkit Samrat. Somewhere Ali Fazal was left behind. Did that effect you at some point in your career?
See when I took Fukrey as a project I always knew that it was going to be the same. I always knew that I was not the central character. It was fun comedy film and everyone had their funny lines and all whereas I had a fully scripted role, which didn't allow me to deviate from the path. Thus I was always serious throughout and never had that much fun on sets of Fukrey. I was thus not very keen at the first instance to do Fukrey, but later on I realised that the project had some great potential and therefore agreed to do it.
Did Fukrey get you a lot of movie projects as we hardly saw you in many films after that?
When we did Fukrey, we all four were out there in the market for the taking and people did come to us with good projects. I was not noticed that much before Fukrey, but somehow the film broke the shackles and people started coming up to me. I got Fast & Furious 7, where I have a cameo appearance, then I got Bobby Jasoos and now presently am shooting for Khamoshiyaan, which is a Bhatt camp film.
People have been saying that Ali Fazal didn't promote Bobby Jasoos well enough. Why is that?
It is not true. I have been to every promotional activity wherever I was required. Many a times I was not required and the promotional activity used to be Vidya Balan based and therefore she was only there. Some part of this allegation is true also as I was busy shooting Khamoshiyaan, and therefore I may have skipped some of the promotional events but yes I have tried to make it to every promotional activity that happened of Bobby Jasoos.