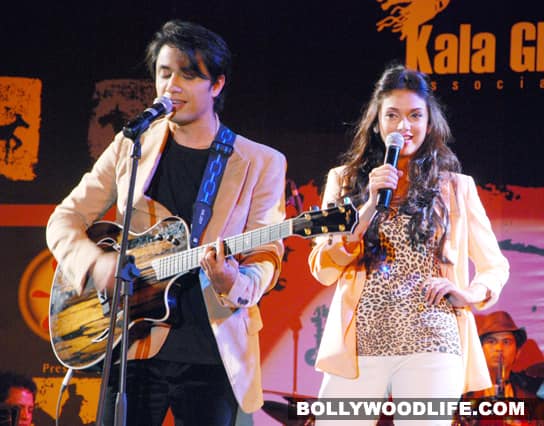 Worried about not being able to reach an event on time, the London Paris New York actors ditch their swanky cars for the crowded local train
Gearing up for their new release, hectic promotional activities and regular appearances at events are keeping the protagonists of LPNY extremely busy. Ali Zafar and Aditi Rao Hydari are participating in all the hype and hoopla which is a prerequisite before a movie hits the screens these days. The two were recently spotted at the Kala Ghoda festival, while Mr Zafar skilfully strummed his guitar, his co-star Aditi shook a leg or two and sang in synchronisation with Ali's music. On realising that they were getting late for another event, the duo and the rest of the crew took the local train to ditch traffic and reach the next venue on time. Just when the posse patted themselves for coming up with this brilliant idea, the second hurdle for the actors was how to disguise themselves in a crowded local train. Masquerading in a monkey cap and stole, Ali boarded the train in the avatar of an aam aadmi and Aditi resorted to a shawl to cover herself up.
Sharing his experience of travelling by train – which is considered as the lifeline of Mumbai, in a nutshell, the Mere Brother Ki Dulhan actor said that rubbing shoulders with the common man made him feel very real. Little does he know, if he does it every day, he would be royally squashed and crushed. Hoping you won't take that route Ali, we wish you best of luck for your upcoming romantic flick!