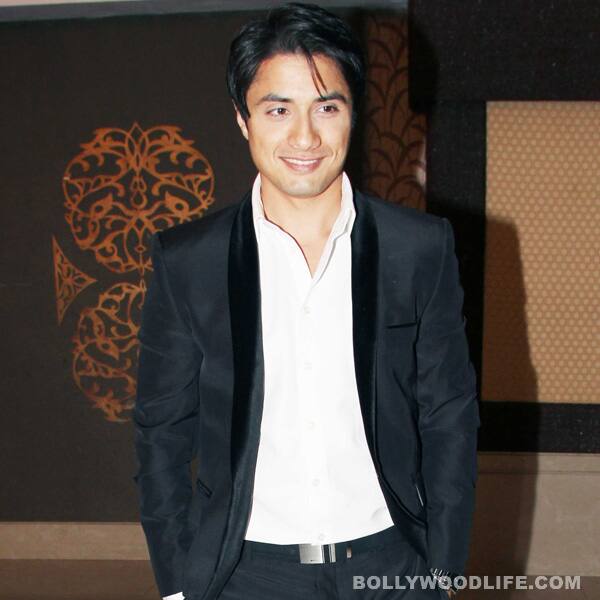 We cornered the man who is arguably the most successful Pakistani star in Bollywood – just ahead of the release of his new film Chashme Baddoor. Cute actor-singer Ali Zafar talked about how welcoming both India and Bollywood are to him, his movies and how he has been an easy target of kameenapanti!
When Ali Zafar came to India in 2004 with his first music album Rangeen, the singer-turned-actor was hit hard by the fact that unlike in his home country Pakistan, where singers are the ultimate stars, India worshipped its filmstars more than incredible singing talent.
"When I realised that Bollywood stars are much bigger here than some of the stunning singing sensations, I made up my mind – I had to be a Bollywood star," confesses the 32-year-old. Zafar's manager thought that the young Pakistani singer was trying to chase an impossible dream. "My manager was of the opinion that it will never happen. He even told me bluntly that Bollywood has much better looking actors, so there was no point trying my hand at acting. But I had conviction and I said I will make it happen one day," recounts Zafar.
Today, Zafar is known for his effortless acting and his easy-on-the eye silver-screen presence, seen in films like Tere Bin Laden, Mere Brother Ki Dulhan, Luv Ka The End and London Paris New York. And now the much-appreciated Zafar is excited about his next film, Chashme Baddoor. In a candid chat with BollywoodLife the chikna Pakistani import talks about various issues that are occupying his mind…
India is treating me warmly
"Both India and Bollywood are treating me nicely. It is co-related, after all. I think because India has accepted me for who I am, Bollywood is treating me nicely and because Bollywood has welcomed me graciously, India is treating me warmly. Lekin co-relation toh hain. And I could not have asked for more. I'm very thankful to the media, the fraternity and my audience for accepting me with an open heart and appreciating my work. All I know is that have got some fantastic projects lined up in the days to come. My film Chashme Baddoor is releasing now. Another film will begin shooting in March. I am also doing a film with Yash Raj Films and Shaad Ali in September. I'm doing the kind work I've always wanted to and I'm happy about the fact that I get to do what I love!"
Har ek dost kmeena hota hai!
Ganesh Acharya should be blamed for the song Har ek friend kameena hota hai and its over-the-top but funny choreography. This song from Chashme Baddoor is a total entertainer in which we are projecting this kameena dost wala sentiment. Woh kameenapanti zara zyaada ho gayi hain promo main. I have never done kameenapanti, but yes, I have been the victim of it so many times! I remember when I was in college, one of my friends would tell some hot girls who used to like me, weird and absolutely untrue stories about me. Basically, my friends were pure jealous that girls liked me and by spreading some nasty rumours about me, they created divides between the college hotties and me. But I never took that silly behaviour seriously. I'm not a kameena soul. But I have often been a victim of their relentless kameenapati.
On being the new chocolate boy in B-town
"There's nothing wrong with being a chocolate boy that people adore. I don't want to run away from that tag. In fact, I am glad that at least people like me for something. You will see a lot more versatility in my performances through my films in the days to come though. Even my previous films like Tere Bin Laden, which was a not a regular, run-off-the-mill comedy, and in London New York Paris, I have played different shades. In Mere Brother Ki Dulhan too I did not play the normal, cute-looking romantic hero. Honestly speaking, I don't try to be mushy or chocolatey. I am just doing my work. Although I might look like the conventional romantic hero, I get excited by unconventional, wacky and wild ideas. Perhaps that's the reason I did Tere Bin Laden. I think I am an alternative soul. I like to do offbeat stuff that kind of challenges you constantly."
Films are more important
"If you happen to work in good movies, you get noticed. Good films are more important than getting to play meaty roles in not-so-good projects. So I am choosing my films carefully. I always put the personal goal on the back burner and give my films the attention they deserve. I don't know what my USP is, but I believe that if you are different, you get noticed. In Chashme Baddoor, I play a normal, shy and soft-spoken young guy. While portraying that character I was focussed on the development of the film vis-à-vis my character and not my character alone. I think that helps. The USP of the film is of prime importance. Chashme Baddoor is very funny, the punch lines are hilarious, and it's a remake of a cult movie redone in a modern fashion. You must watch it!"