Yoge nShah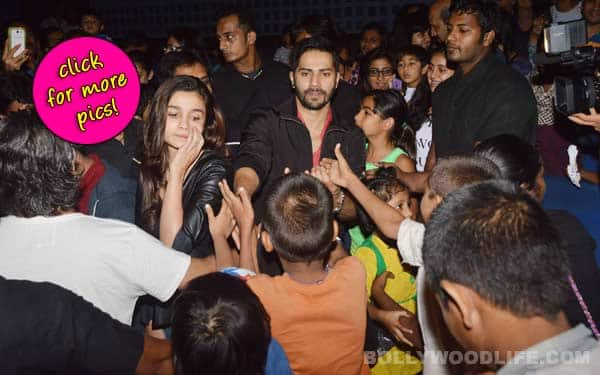 skip advertisement
The duo was seen interacting with their fans as they promoted their film Humpty Sharma Ki Dulhania
Alia Bhatt and Varun Dhawan have had a good start with their film Humpty Sharma Ki Dulhania.
The romantic drama has received a warm at the box office and the co-stars are making sure the effect doesn't wear off anytime soon.
The Student Of The Year actors have been in the limelight for their promotional stints lately. Be it the city promotions, dancing and rapping on stage, entertaining the audience at various malls or the popular 'humphies" with the fans, Varun and Alia have given it their all to get the numbers they hoped to achieve.
This time, both the stars went out of their way in making their fans happy. Humpty(Varun) and Kavya(Alia)were seen visiting different theaters in order to greet and interact with their fans. Though Varun appeared to be having a good time with the kids pouncing on him to shake his hand, Alia's expression says it all. Evidently, the hottie didn't relish the attention much .Not a kiddo fan, are you Alia?
We wonder what the actors will do next. Write "Watch our movie" in the sky with smoke? Well the visual is a tempting one to watch out for isn't it?