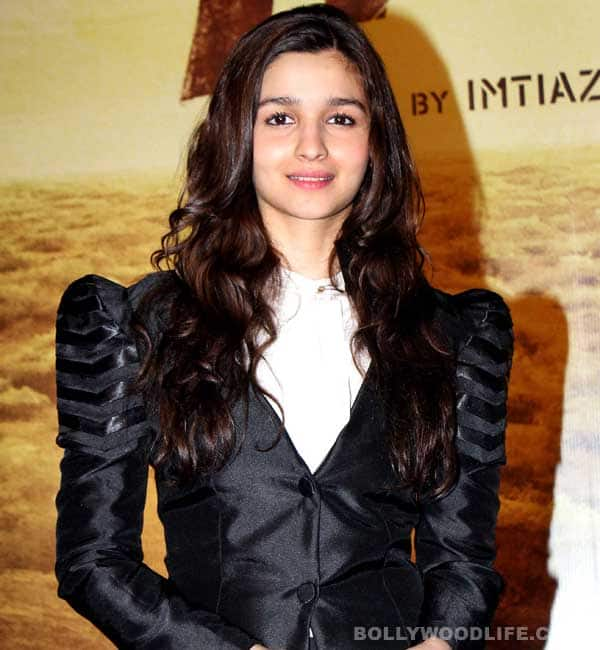 She made a smashing debut with Karan Johar's Student Of The Year and now Ms Bhatt is all set to woo the audience with her second film Highway
Alia Bhatt is just one film old and she has already worked with two talented filmmakers – Karan Johar and Imtiaz Ali. While this B-town beauty played a glamourous role in KJo's Student Of The Year, the babe will be seen in a completely different avatar in Imtiaz Ali's Highway. Alia will be seen opposite Randeep Hooda in this road film. So we recently caught up with Alia and though she wasn't in a great mood (self confessed), the talented lass didn't hesitate to answer our questions. Did she talk about the Safai Mohatsav controversy? Is she nervous about the box office fate of her second film? Read on to find out…
Tell us about your role in Highway…
I play Veera Tripathi. She is a Delhi based girl and belongs to a rich family. Basically this film is about when you end up in an unexpected situation which is out of your comfort zone which changes your life completely. But at the same time you discover yourself, you realise the purpose of your existence. Also, Highway is not a coming of age film. It's not becoming older but about discovering who you are as human being in your life. In that case, it's more than coming of age film.
Unlike your debut film Student Of The Year, in Highway your role required you to be de-glam. How did you manage to get that look?
Jyada kuch nei karna pada bas I didn't apply make-up and I also didn't brush my hair. So that was enough…
Was it mentally or physically difficult for you to shoot the film since it's a road movie?
Yes, it was hectic coz we had to travel a lot. But I was exciting as well coz we didn't knew what would happen next. In fact, while shooting the film we dealt with different kinds of weather – snow, rain and even sandstorm. So that was thrilling. Yes, mentally, emotionally and physically it was tiring. Body main bahut pain tha but that was helpful for my character as it got captured in camera and I didn't have to pretend to be in pain while shooting.
Did Imtiaz Ali sign you before watching Student Of The Year?
Yes, he signed me before watching my debut film. And I was obviously excited and happy coz you don't get a chance to work with Imtiaz in your second film itself. So I am grateful that I got to do this film.
You worked with Karan Johar in your first film and now Imtiaz Ali. How different is their working style?
Imtiaz live dekhte hain kya scene ho raha hai and Karan watches behind the camera while shooting. I think that's the only difference.
In Highway, you're paired opposite an older actor… were you apprehensive about that?
Not really coz you're playing a character so you don't think about the pairing. Agar film pairing ke hisaab se hogi toh I think it should happen only if they fit the characters not according to how good they look together. And this film required us not to look good together.
We heard Imtiaz was actually looking for an older heroine…
Well, Randeep fit Mahabir Bhatti's part and I was fit in Veera's part. And then this paring happened to be unusual
Alia, you are actually the hero in this film. So are you under any pressure?
I think Imtiaz is the hero of Highway. So please mujh pe pressure mat dalna (smiles). I am just a catalyst. But obviously there is pressure coz it's only my second film and I have still not figured out how you deal with things when you're film is just about to release. Randeep says he detaches himself once his work in done. But I can't do that. At least it has not happened till now coz I am still very new. So I am definitely nervous.
You come from a filmi background. So do you discuss work with your family?
Not really coz for me they are just my background.
A lot has been said about you performing at Saifai Mohatsav. Your father Mahesh Bhatt even said that he must have failed as a parent for allowing you to perform. What do you have to say about that?
I think whatever has been said has been said. I don't want to comment on that topic anymore it has been stretched too much.
What are your limitations as an actor?
I can't shave my head…maybe. If you're talking about bold scenes then I have no issues.
Do you think you have enough fans and followers who can give Highway a good opening?
I don't think this film is about opening. This is more of a word-of-mouth film and even if Highway gets an opening it won't be because of me but Imtiaz. He has very huge brand name and his films are not just liked but loved. Jab log film ko pyaar karte hain to woh box office se jyada chalti hai. And that is very important.
Did you always wanted to be a star or an actor?
I want to be an actor and then a superstar not a star.
Varun Dhawan, Sidharth Malhotra and you – all three of you are having your second releases around the same time. Is there a sense of competition?
Not at all. In fact, it's very exciting. Coz I watched Hasee Toh Phasee and I got very emotional watching Sid onscreen. So I was like one mother who was seeing her child, I guess (smiles). We all are doing different kinds of films and Sid's second film has been appreciated so one down, two to go.
Any actor you admire from the younger lot?
I really admire Deepika Padukone for her work ethics and the kind of dedication she puts into her work. So I am happy that she had a great year.
Are you competitive?
I am very competitive but not in a negative way. I compete to outshine myself
You're doing a classical number in 2 States?
Not a number but yes a bit of classical.
Any regret that you weren't chosen for Aashiqui 2?
No…
Why?
You don't know the true story na isilye… (smiles)