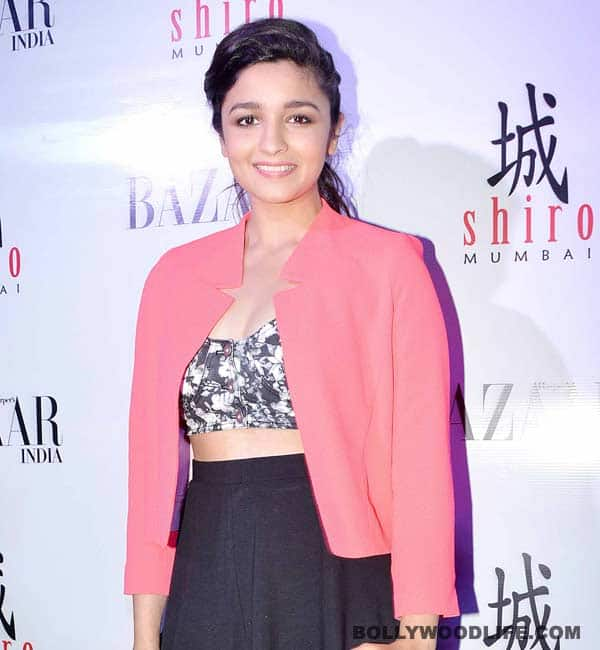 Though she made a smashing debut with Karan Johar's Student of The Year, Alia proved her mettle as an actor with her second film Highway. Imtiaz Ali's directorial venture not only earned Ms Bhatt accolades but the starlet is now considered one of most talented actors to have entered Bollywood in recent times. With her third film 2 States around the corner, wethinks Mahesh Bhatt's beti is set to woo the audience once again
Alia Bhatt and Arjun Kapoor starrer 2 States has generated great buzz amongst the masses. But there is more to the film than just romance. Yes, it's not a typical coming of age romcom where boy meets girl, they fall in love and then kahaani khatam. Well, that's what the lead heroine of 2 States feels about her much-talked about film. How do we know, you ask? We recently caught up with the gorgeous Alia and unlike last time, the Highway actor was not exhausted and absolutely willing to answer all our questions. Did she speak about her co-star Arjun? Is she feeling the pressure of expectations as she delivered a great performance in her last film Highway? Read on to know…
How did 2 States happen?
I had read 2 States when I was shooting for Student of The Year coz somebody had told me that it's a very nice book. So I read it and I thought 'Oh god this meant to be made into a film' and I didn't know it was going to be made into a film at that time. When I found out that Dharma Productions and Sajid Nadiadwala are doing this film I was like 'will they come to me…no I don't think so' coz I was so young. I am still young but I was even younger back then. I thought I won't be able to play a mature character. But then I did get the opportunity to do a look test so me and Arjun Kapoor did a photo shoot as he was already onboard but I wasn't sure if had got the film. I was literally crossing my fingers and hoping that it comes to me. And about four to five months later I was told that I am doing the film. So it was like another achievement for me. It just didn't fall into my lap. People must have thought that after Student Of The Year I must be getting offers but that never happened. I got 2 States which I said yes to and then I got Highway which I again said yes to. Coming to 2 States, the best way to describe it is it's a love story between two families. It's not a romcom.
Tell us about your character Ananya?
She is someone you can spot her from far away and she doesn't need to be saying anything, you would fall in love with her immediately coz she is fiery, spunky, intelligent, beautiful, smart and strong. She is forward thinking still traditional. She is a feminist yet sensitive. Ananya's character had a lot of characters and she is probably the ideal girlfriend or a wife to have.
How similar are you to the character in real life?
I feel like I have learnt a lot from Ananya. Thinking about another person before yourself, having that maturity and sensitivity at the same time is what I learnt from this character. Coz girls usually think about themselves. Similarity I would say she is a very strong woman and she has this thing that men are not superior to women so that is something even I believe strongly. In fact, my whole family has a strong opinion about women.
After doing an extreme film like Highway and playing a difficult role in the film, was it easy for you to play the character of Ananya since 2 States sort of falls in romantic genre?
Not really coz I started shooting for 2 States before I started shooting for Highway. I did one full schedule of 2 States after Student Of The Year and it was not easy coz the film is such when Ananya and Krish (Arjun) are having conversations is like how I am talking to you right now. I don't have dialogues, I am just talking to you normally and that's how organic and normal it had to be. And sometimes not acting is the hardest. In Highway I had a monologue and a performance packed scene but here doing nothing was also very difficult. I and Arjun had to play off each other. Also, I think I related a lot of my character in Highway. I was basically that persona and it was my journey literally as human being. So what came naturally to me was captured by Imtiaz Ali in Highway. In 2 States, I had to do what will come naturally to Ananya. So that itself was a challenge.
Chetan Bhagat's 2 States is a bestseller so you do feel there are a lot of expectations especially from the people who have read the book?
Probably… see when I read the script for the first time, I was happy and I had read the book and I am very big fan of Chetan Bhagat's book. There are certain portions which have been removed but that's only for screen time. We have kept the film very crisp and tight but at the time we have kept the skeleton of the book alive. And the credit goes to Abhishek Varman coz he literally ate the book up and made sure that's what comes onto to the screen. He being a book lover probably knows that when a book audience goes and sees the film and they are disappointed then it's not a good film. And even I know that.
When you do a script based film the audience doesn't know what's going to happen till they see the film. But in a novel based story the audience already knows everything from start to end. So doing which kind of film has more advantage or disadvantage?
Here there is a certain level of expectation as in how you want the film to be so that can be a pro and it can be a con as well. Whereas you have no expectations from a script based film coz whatever you get to see of the film is only from the trailer. So you go in not expecting anything. But the joyride of reading a book and then going for the movie is something else. Coz you are seeing your imagination play out. And sometimes you get to see exactly the way you had imagined and that is a different feeling altogether. You feel as if you have done something great (smiles). So I feel it's just the way you look at it. Definitely with this film we do have an edge in terms of viewership coz of the book being loved. But that can also be a disadvantage coz if they don't like it and bash it up then we are dead.
In the trailer, you speak Tamil fluently and you have also shown off your Bharatnatyam moves. So you have done everything to perfect your South Indian character but how difficult was it for you?
I think half of the work is done when you get the look right. So when the outfit and the look are sorted, I feel it helps a long way. In terms of Bharatnatyam, I prepared a lot. For the one particular Bharatnatyam piece, I worked really hard and it wasn't easy at all. I rehearsed for seven to eight days continuously so that the little chunk looks convincing. I feel that I don't have a natural sway for an Indian grace so I watched a lot of songs of Aishwarya Rai Bachchan and Madhuri Dixit just to get that grace on my face. The steps maybe simple but you have to express a lot from your face so that was something I really worked on. Tamil I tried to learn as much as I could in one month but the edge that I had was Ananya doesn't speak Tamil all the time. Also, Revathy mam actually helped me a lot. Whenever she would be on sets and I had to speak Tamil, I would say to her first and she would correct so would be like 'okay yeah I got that'.
Any particular Madhuri or Aishwarya songs that you referred to…
There are number of songs but if I had to say then Madhuri Dixit's Ek do teen then Devdas songs and even Aaja Nachle. I saw them just to observe. As for Aishwarya songs, I saw all her Hum Dil De Chuke Sanam and Devdas numbers and Krazy kiya re from Dhoom 2. Though it was a Bollywood number, Ash did it with so much grace. So I actually learned watching their songs. In fact, that's how I have literally learned dancing. I did four years of Shiamak Davar but it didn't help me learn dancing (laughs).
How was it working with Arjun Kapoor?
Technically 2 States was my second film so Arjun was the first actor that I was working with and had seen his film Ishqzaade. In Student Of The Year, we all were new so we all were clueless. I felt this guy knows something coz his film Ishqzaade was power packed in terms of performance and I didn't have that advantage with SOTY. So initially I was nervous working with him but when I got to know him then we had a blast. As an actor I had a great time working with him and as a human being I would think that he is a very serious person coz he looks like that. But he actually has a great sense of humour which is something that I look for in a person or a friend.
Do you think now the stage has come for you where every film of yours will be tested for box office performance?
Definitely… now it all about how much money a film is making. Even with Highway, many people told me that your film was loved but it didn't make much money. Today it's like if it's not a 100 crore film then it's not a good film. This perception has come around that a film has to make a certain amount of money at the box office which I agree with. So if more and more people warm to us, it would be better for us. People will be come to see 2 States not coz of me or Arjun, we just happen to be in the film. People don't think 'ki chalo Alia ki movie lagi hai. Let's go and watch it.' So if the content is not good the film will not run. Whereas a Shahrukh Khan or a Salman Khan or anybody, even if they give a bad film, it will still make 150 crore coz that's their star power. So yes the time has come and the more I prove myself the bigger films I will get to do. It's a testing time and now mistakes won't be forgiven.