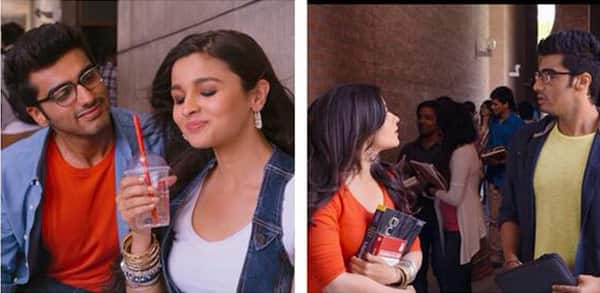 The 2 States babe's passionate love for her co-star has surely gone beyond the cameras
Mahesh Bhatt believed that Alia Bhatt and Arjun Kapoor have a special relationship. Unlike everybody, talking about Alia-Arjun's sizzling chemistry, onscreen kisses and love making scenes, Bhatt Sr felt that Alia-Arjun were a couple when he visited them on the sets of 2 States in Ahmedabad. Alia has openly talked about her kiss with AK in the movie, she even declared in an interview that Arjun thought she kissed well and now the actor revealed her father's suspicion about her relationship with her hero.
Alia said in an interview to a tabloid, "Last year, when I was shooting in Ahmedabad, my father was there to promote Aashiqui 2 and had visited me on the set of 2 States. He recently asks me, 'Are you dating Arjun or what?' Six months later, he is telling me, 'I sensed something in the van when I came to Ahmedabad', even though there is nothing. He likes Arjun."
Clearly the filmmaker didn't miss the chemistry Alia shares with her partner in 2 States. And with their sensuous promos grabbing so much eyeballs, we hope that they sizzle as much in the film too. As for Alia's daddy, looks like there is no reason to believe that his li'l gal is dating the Kapoor lad, hai na?