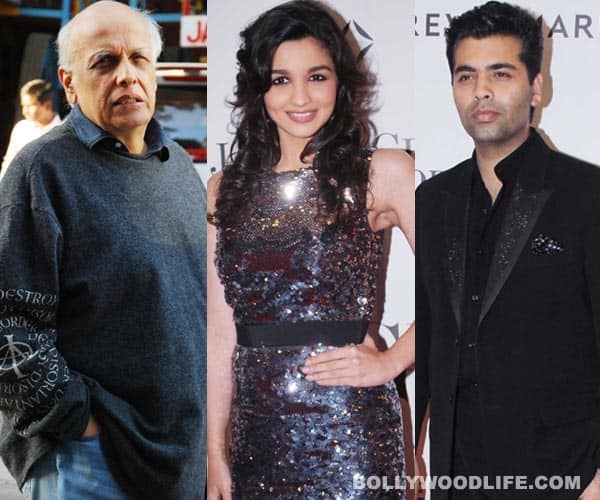 What's so special about Mahesh Bhatt's baby? And why doesn't she want to work with her father, who makes successful 'grown-up' movies? We find out…
If a filmmaker like Karan Johar shows keen interest in a newcomer to the extent of signing her on to be the leading lady of his new planned film even before the release of her debut production, it certainly speaks volumes for the actor. Yes, we are talking about Mahesh Bhatt-Soni Razdan's daughter Alia Bhatt, who's apparently KJo's latest young sensation.
It seems that the young starlet has that extra 'something' in her to have caught KJo's attention. Or else how would you explain Karan's decision to cast her in his next biggie – 2 States, based on Chetan Bhagat's novel – opposite the young male sensation Arjun Kapoor. Unique pair, no? Karan's choice of his leading lady for his next has certainly raised eyebrows in the industry. Moreover, a majority of the people, including Karan's close friends and trade pundits, are actually more shocked than surprised and they somehow feel that Karan has lost the plot. After all, the buzz surrounding his latest youth-based Student of the Year and the prospects of the young actors in it is very thanda. Then why is Karan going so ga-ga over Alia? We wonder….
Alia's father Mahesh Bhatt, who started his career as a filmmaker with some serious and hatke real-life dramas, has gradually shifted focus to erotic thrillers, and so is not really fond of candyfloss entertainers – which, as we all know, is Karan's favourite genre. At this stage of her career, considering her debut film is yet to release, we wonder whether Alia would be interested in attempting the rather 'adult' genre that Vishesh Films is known for. Talking about her choice of films in a recent interview, the young lady said that she would like to do more rom-coms at this stage of her career, because that style would be easier for her.
It's too early to judge whether Karan's decision is the right one. For that we'll have to wait and watch how his ambitious Student of the Year fares at the box-office. We wish the director-producers and his young actors, especially Alia, all the luck….and wait to see how it all works out for them!