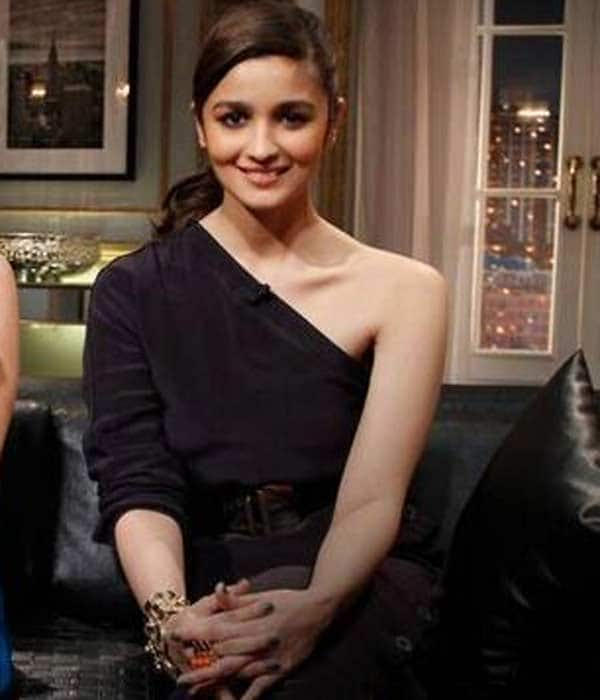 The 2 States actor went on national television to declare her love for the Bombay Velvet hero, but guess this announcement was just for TRPs!
Alia Bhatt has now taken a U-turn from the previous statement that she made on Koffee With Karan 4 about her love for Ranbir Kapoor. That's not it Alia went on to even reveal her secret plans of marrying the sought after Kapoor lad. Looks like all her love for RK Jr was fake! Has Alia become the new faff queen of Bollywood, who will say and do anything to grab headlines and stay in news? Well, it  certainly seems so. Guess Ms Bhatt is after all not a replacement for Kareena Kapoor Khan, but other sensational celebs who just made statements to stay in limelight. Is she the new Mallika Sherawat or then worse – the Rakhi Sawant of tinsel town?
Alia not only proclaimed her love for Ranbir Kapoor, but even went on to say, "I remember the first time I spoke to Ranbir, you called him up when Rockstar released and you said, here talk to Ranbir tell him how much you love him. And I just spoke so much rubbish, I was just talking non-stop. But later I have hung out with Ranbir and I still think he is really adorable and I still want to marry him."
When asked if she has ever discussed her love for RK before his mommy Neetu Kapoor or girlfriend Katrina Kaif, she added, "Everybody knows my plan. I have gone on record and said it as you said. And I am very open about it except Ranbir."
But guess what a few days after the episode went on air here's a fresh quote from the actor, "Firstly, being in this industry if I want to marry someone, I will never say it on the national television, especially on Koffee with Karan. So, I just said it in jest, I am a fan girl at the end of the day. When I say 'I want to marry Ranbir Kapoor', it's not like I literally want to marry him. It's just like a fan girl who wants to take a boy home to meet her parents."
Now looks like Alia's last innings on Koffee couch went unnoticed and this time around she didn't want a repeat of the previous episode with her low GK (general knowledge) to make headlines. So has she sought some inspiration from our eternal bachelor of Bollywood Salman Khan? When Sallu miyaan said he was a virgin, he sent the everyone on a tizzy and Alia chose the next hot hunk of B-town to announce her love and wedding plans. Was Alia meaning it in jest or is she now worried at having rubbed RK's ladylove the wrong way? Whatever the case wethinks that AB should be officially conferred the new  marketing genius title, right BollywoodLifers?