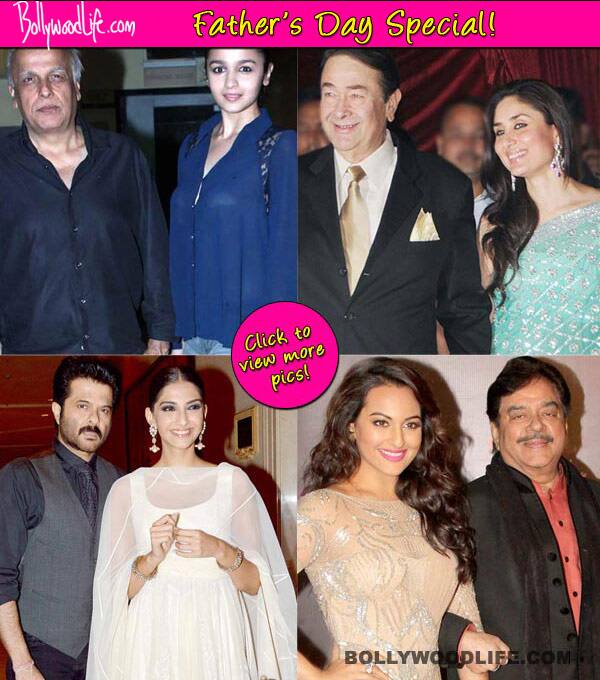 skip advertisement
While these hotties have scorched many screens with their co-stars, as a Father's Day special we reflect on how these star daughters haven't shared any screen space with their dads yet
Be it Shakti Kapoor's "Crime Master Gogo" stint or Shatrugan Sinha's iconic dialogue "Khamosh!". Mahesh Bhatt's unique eye for cinema with films like Saransh or Randhir Kapoor's dedication to carry on the Kapoor legacy, these star fathers have left a trail in B-town which is now being followed by their darling daughters. We look at how certain father-daughter pairs would suit varied genres of the Indian cinema if at all they are seen sharing screen-space in the near future.
Alia Bhatt-Mahesh Bhatt
Alia Bhatt has made a mark in the industry with her memorable performances in films like 2 states and the critically acclaimed Highway. While the star is usually spotted in a chirpy and bubbly avatar, her daddy Mahesh Bhatt is mostly seen sporting a serious look donning those black shirts he is well known for. We would love to see Alia with her daddy dearest in a comedy drama, following a similar plot to the Hollywood film Father of the Bride.
Sonakshi Sinha-Shatrugan Sinha
Although Sonakshi has mostly been spotted in Bollywood masala films like Wanted and R…Rajkumar, we would love to see the beauty share screen space with dad Shatrugan Sinha in a political thriller. With Shaturgan Sinha's political backing and Sonakshi's screen presence, the father-daughter pair would be a hit. Don't you agree with us?
Sonam Kapoor-Anil Kapoor
Sonam Kapoor has emerged as the most popular fashion icon of the industry today. Her father Anil Kapoor on the other hand has forever been in the news for his "fit and fine" image and the ways in which he has maintained himself. What better venture than a page 3 drama for the duo? Anil Kapoor will be memorable in a role of a highly influential person in the industry, heading a popular fashion agency. Sonam Kapoor on the other hand will do justice to her role of an aspiring and struggling model, whose aim will be to join the fashion agency headed by Anil Kapoor. What do you think peeps?
 Shardhha Kapoor- Shakti Kapoor
Where Sharddha Kapoor is mostly seen in her girl next door stints, Shakti Kapoor is famous for his bad boy roles. Let's reverse their images for a change and put them together in an intense family drama. Sharddha Kapoor will surely baffle us all if seen in a negative role, playing the character of a psychopath whose aim is to kill her own father for the property. Shakti Kapoor on the other hand can shed his villainous avatar for once, in turn donning one of a friendly and innocent papa who is unaware of his daughter's monstrous ways. We don't know how the story will end but it's safe to say it surely will be a nail biting one to watch out for eh?