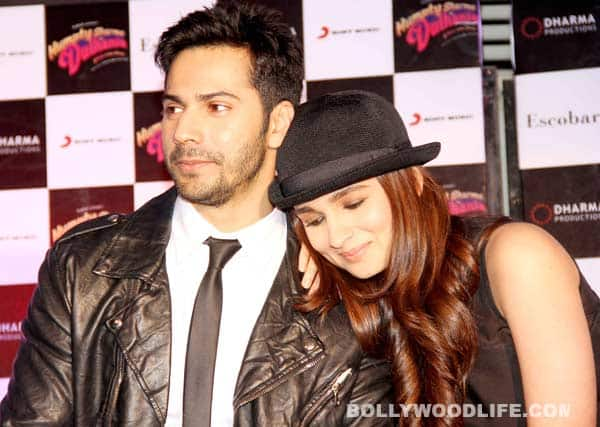 The 2 States star recently claimed that she and her co-star Varun Dhawan aren't dating anybody at the moment.The duo was seen promoting their upcoming film Humpty Sharma Ki Dulhania in Pune
When two young, good-looking actors — who have been 'close friends' for a long time — sit down for a candid chat sparks are bound to fly. And that is exactly what happened when we met Alia Bhatt and Varun Dhawan this time. They were in the city on Saturday to promote their upcoming movie Humpty Sharma Ki Dulhania.
Here are the excerpts from their interview:
How much have you changed as actors since your first movie?
Varun: From the time we did our first film, I have seen a very big difference, which of course is for good. Alia has grown as an actor. When we started out, we all were very nervous and scared, which definitely has changed over these years, as we are more confident now. In fact, when we started shooting for Humpty Sharma Ki Dulhania, I was supposed to play a typical Punjabi guy, but since I have grown up in Mumbai, I couldn't alter my mannerisms. But eventually, I practiced hard. I can proudly say that I have managed to get into the skin of my character. In fact, I have started talking in the typical Haryanvi manner at home too.
Alia: When we were shooting for our first film, I was more concerned about delivering my lines. I used to talk in Hindi and think in English which would change my body language. But now I am quite comfortable and things come easily to me.
Roles you wish to play in future?
Alia: I want to do edgy roles, which at the same time have some kind of connect with my real character. Though I always go by my instinct while choosing a particular role after reading the script, I believe in quality more than quantity.
Varun: I don't want to repeat what other actors have already attempted on screen. Whatever character I play, it has to be unique. In fact, look at the name of my character in this movie. How often do you meet a guy with a name like Humpty?
Who would reach the sets first?
Varun: I would always reach the sets first.
Alia: That's because you are boy, and you don't need to dress up.
Varun: You take hours for make-up.
Alia: I don't take much time to do make-up, as I don't need to put a lot of make-up. I just take my own sweet time listening to music because I can't just roll like a machine.
Do you always share a love-hate relationship?
Varun: We are comfortable with each other and like each other and that's what reflects in our behaviour too.
Alia: And that doesn't mean we are dating each other. We are not dating anyone at the moment.
Directors you want to work next?
Alia: I am dying to work with Rohit Shetty, Ayan Mukerji, and Zoya Akhtar. In fact, I want Varun to direct me soon. Sometimes, he teaches me how to do a scene on the sets, and I love it.
Varun: I am looking forward to work with Rohit Shetty and Mohit Suri
Actors you want to share screen space with?
Varun: I have been looking forward to work with Shraddha Kapoor because I have grown up with her. This will happen soon. Besides her, I would love to work with Mr (Amitabh) Bachchan sometime soon.
Alia: More than male actors, I would love to share the screen with one of my female contemporaries like Parineeti Chopra or Shraddha Kapoor. I want to do a women-centric powerful role with either of them. I hope it happens soon.