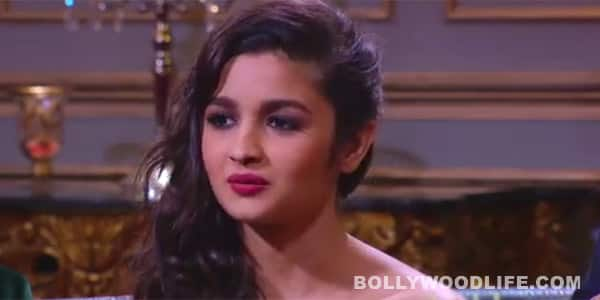 skip advertisement
The 2 States heroine's outing on small screen has got her more limelight than her silver screen appearances
Alia Bhatt is the latest Bollywood celebrity to become to the butt of Twitter and Facebook jokes. Everybody from debutant actor Tiger Shroff, to newlywed Rani Mukerji and Aditya Chopra, failed hero Neil Nitin Mukesh and the eternal baabuji of B-town Alok Nath have been ridiculed on the social media. Alia Bhatt's general knowledge has made her the current favourite amongst the humorous lot. Here take a look at the dumb Alia jokes doing rounds on social network.
Qn: What is common between Anushka Sharma & #AliaBhatt ? Ans: One got duck lips another has Duck Face.

— mit (@mitsinha) May 7, 2014
Qn: #AliaBhatt do you know capital of Tamilnadu? Ans: Che Nahi

— mit (@mitsinha) May 7, 2014
Amir Khan: How did India get independent? #AliaBhatt : When you hit the SIX on Last Ball vs England! #AliaBhatt

— Keval Shah (@555KevaL) May 7, 2014
Reporter: what is the opposite of IIT Alia Bhatt: simple its UU COFFEE! #AliaBhatt #troll

— Keval Shah (@555KevaL) May 7, 2014
What's the first name of Modi? Alia Bhatt: "Ab ki baar". #AliaBhatt #aliabhatttrolls

— Udit Jain (@Bhasudi) May 7, 2014
KJo to #AliaBhatt "whom do you credit the success of your career?" #AliaBhatt "I wanna thank my parents; especially my mom and dad"

— Saurabh Gandhi (@iSaurabhGandhi) May 7, 2014
Lets admit It – A conversation between Rahul Gandhi and Alia Bhatt would be – priceless #AliaBhatt #trending

— Manoj Chanchawat (@manojchanchawat) May 7, 2014
#AliaBhatt Scene: Alia Bhatt on Koffee With Karan Alia: I think Rahul Gandhi is a bit dumb Karan Johar: You can think?

— Mastiz Unlimited (@mastiz) May 7, 2014
KJo: What was the name of Dashrath's father? Alia: Simple Bees(20)rath, koi tough question poocho #AliaBhatt #aliabhatttrolls

— Crime Master Gogo (@GogoMyBaap) May 7, 2014
#AliaBhatt is so dumb that she thinks Priyanka Gandhi is #RahulGandhi 's wife

— Anamika Dutta (@officialanamika) May 6, 2014
#ArjunKapoor :Rajni joins twitter #AliaBhatt :now tweeple will stop makin his jokes on twitter Arjun:u r also on Twitter, have they stopped?

— Twittender (@handlemeifucan) May 5, 2014
We wonder what does the Highway babe have to say now that her IQ is being discussed as against her acting prowess.