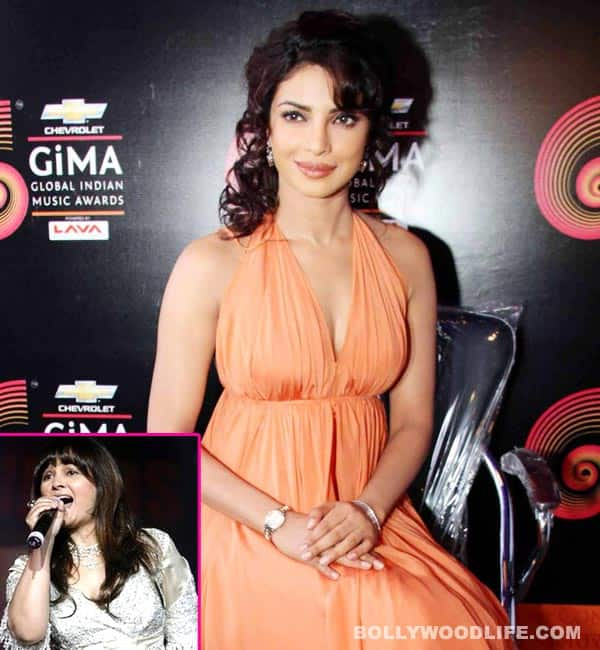 The singer will be PC's playback voice for a song in Krrish 3
Alisha Chinai sang Tinka tinka for Priyanka Chopra in Karam eight years ago and people wondered if Priyanka was doing the singing herself. The truth is that PC loves apni Alisha's voice and has been a fan of the singer ever since childhood. Now, Alisha, who had retired from playback singing as it didn't excite her anymore, will get back to the recording studio only for PC. "I am happy to be away from playback singing in my little paradise in Alibaug where I stay," Alisha had said.
We hear that Priyanka was supposed to sing this Krrish 3 number herself but her contract barred her from doing so. Rajesh Roshan, who is composing music for the film, decided to go to Alisha, the next best option to PC's voice according to him. Roshan decided to visit Alisha in Alibaug (where she now lives) and coax her into singing. And Alisha, who was not very keen to get back to playback singing, gave her nod, only out of respect for Roshan and because she was singing for one her favourite people – PC.
"I couldn't say no to Rajesh. I have a very high regard for his melodies. And the song was for Priyanka. I enjoy singing for her. I remember her telling me after I sang Tinka tinka that she had once come backstage with her father to meet me in her hometown Rae Bareilly where I had gone to perform. And I loved the way she put forward the Tinka tinka song on the screen," said Alisha.
We would love to see if this new number can recreate the magic of Tinka tinka!