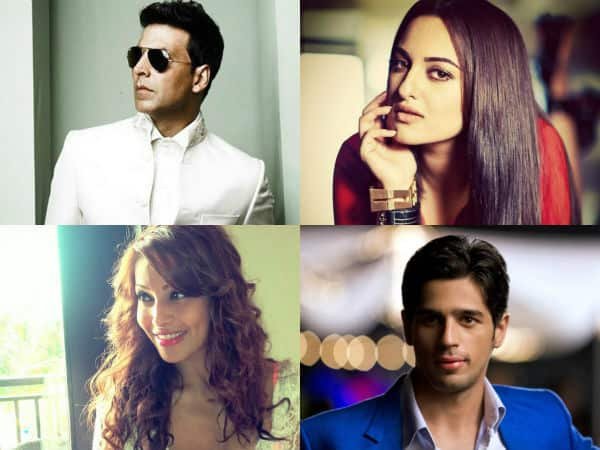 Here is a report card showcasing the scores of all the B-town celebs who took up the challenge. Read on to find out…
The ALS Ice Bucket Challenge was created to help create awareness and funds for the treatment of the illness.
It was simple enough challenge. Bathe in ice water or donate 100 $ to charity organisation created for the condition. But Bollywood seems not to understand that. And main stream actors who make millions, are busy bathing in ice water.
Also, what's the big deal about bathing in ice water in our country. Isn't like we have freezing temperatures, like in the US where the challenge originated.
But then, everything that the west does, we blindly copy. Groups of actors started posing (at parties, events, awards shows) for an Us-ie (selfie with many people) after Hollywood did it as Oscar. And now same is the case with the ice bucket challenge
Bollywood has always been obsessed with water. We love romancing in the rains, getting drenched under waterfalls, singing songs while being half-immersed at the beach or in a pool. Hence it was no surprise that Bollywood was bitten by ALS challenge.
However, now that so many celebs have taken up the challenge, it's time we measure their performance. Here's their report card…
What's the challenge
It's an effort to raise awareness about ALS where participants must dump a bucket of ice cold water and then dare someone to do the same.
If they can't, the alternative is to donate $100 to the ALS Foundation which uses the money in research for cure of amyotrophic lateral sclerosis (also referred to as Lou Gehrig's Disease). It is a progressive neurodegenerative disease that affects nerve cells in the brain and the spinal cord.
Riteish Deshmukh 10/10
Nominated by Sania Mirza, he was the first Bolly actor to take up the challenge, so full marks to him. also, he did the task in Poland, where it is freezing, so and that's pretty cool!
Akshay Kumar 9/10
The Khiladi Kumar was shooting for his TV show in chilly Cape Town. The actor got all 11 contestants to pour ice water on him. Extra points because he used sea water, instead of wasting clean drinking water.
 Mandira Bedi 8/10
Mandy is the only one who actually mentioned the condition. She also narrated a personal experience about losing an uncle to the disease.
 Abhishek Bachchan 7/10
He gets 8 points for being was one of the first people to accept the challenge. . First mover advantage. Before every Tom, Dick and Harry (also every Mary, Jane and Suzie) began getting out their baraf and balti. Two points deducted because we could not see any ice in his bucket.
Sidharth Malhotra 6/10
The Ek Villain actor clip seemed pretty promising initially but looking at his half full (and half empty) bucket we were rather disappointed. He loses three points not getting wet and wild with a tee on.
Sophie Chaudhary 5/10
We are sure guys loved watching Sophie getting drenched in water in a white tee but It reminded us of a wet t-shirt contest.
Lara Dutta 4/10
C'mon! we haven't seen her in a while. On screen, TV or even a ramp. And this is how she comes back? Disappointing.
Bipasha Basu 3/10
The size of the bucket was too small. Did she get confused into thinking that it was an ice 'bowl' challenge? Seems so.
Ashish Chowdhary 2/10
Too much melodrama boy. What with the shivering in Mumbai's humid weather? But we give it to him that at least he talked about ALS. But Mandy had done it before so how do we know he wasn't being a copy cat?
 Raj Kundra 1/10
Ideally, no one should have to see him getting wet. He loses point for not throwing water on his hot wife Shilpa Shetty. Now that would have been something!
Nominated, but smart enough not to take up the challenge
Anusha Dandekar
Salman Khan
Twinkle Khanna
Varun Dhawan,
Arjun Kapoor
Mohit Suri.
Sohail Khan
Shruti Haasan,
Deepika Padukone,
R Madhavan
Amitabh Bachchan,
Shah Rukh Khan
Priyanka Chopra
Sonakshi Sinha 11/10
This gal never fails to surprise us. When the internet was going viral with pouring of bucket full of ice over celebs, Sona posted a video of her lifting a heavy bucket and when she unturned it on her, one ice cube fell out. She then told people to: Stop wasting water and donate money for the cause. Thumbs up to Sona!