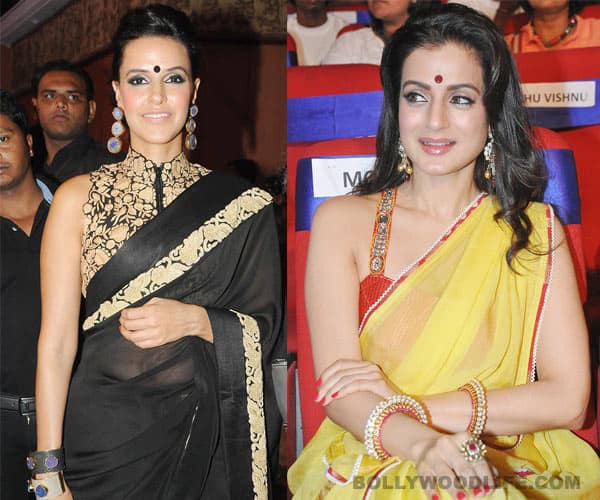 The two babes were spotted wearing huge round bindis at the TV9 National Film Awards and since that's a very Bengali style, we had to wonder who carried the misthi look better
While Ameesha Patel was seen in a vibrant yellow-red combination at the glamorous do, Neha Dhupia sported a gorgeous black saree embellished with pretty embroidery along the hem. It's a Nupur Kanoi saree and the high-necked blouse  lends Neha's personality a touch of ultra-sophistication. Ameesha Patel, on the other hand is overly traditional – she's taken care of everything, from those ethnic drop earrings to the white and red bangles. And that intricate ring is a cool traditional surprise.
Our only gripe – why does Ms Patel have to sport itsy-bitsy clothes all the time? The halter blouse is such a let down. Or wait, maybe it's not; it's just that we are so tired of seeing the babe in skimpy outfits. Her love for revealing restricts the whole idea of creating a nice li'l statement to just a matter of skin show. While we love her traditional look, it would have had been a lot better if she had opted for a three-quarter-sleeved blouse or something that could have completed her pure traditional style. We would love to see her try something different.
Dhupia looks like perfect Bong material with that coal-black bindi. She gets it super right, creating the perfect mix of a designer-ish statement and that special Bengali tadka. Neha for us is the khoob bhalo style icon, hands down!