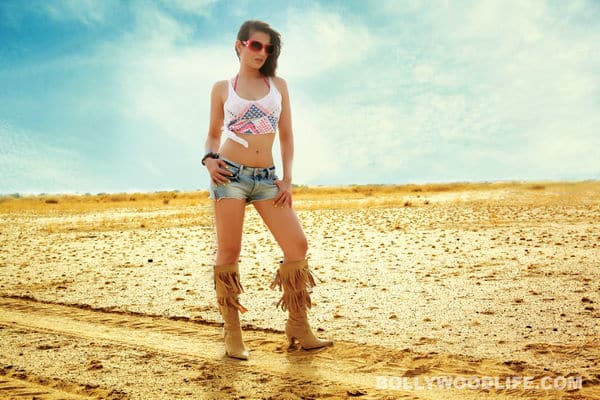 The actor sports a new slim and sexy look in the commercial. Watch video to know more!
We couldn't believe our eyes when we saw Ameesha Patel in her new ad for Glam Star sunglasses. Is it really her, we wondered. But take a look at her picture and also the commercial's video, and you will know what we mean.
The actor, who has not been doing too great as far as her B-town career is concerned, is sure to send temperatures soaring! Ameesha too is in love with this one image where she is sporting denim hot pants and boots, and a white tee that amply displays her flat tummy. Of course, she is wearing some eyewear, too! The B-town girl has also posted this as her Twitter display pic. The commercial might be for shades but all eyes are on the Lazy lamhe girl, as she strides down a desert highway in her red car. Plus, for her fans it's a bonus, as Amy is seen in four hot avatars in the ad film. Do you also like her?
Ameesha will be seen in Abbas Mastan's Race 2 in 2013, as well as films like Run Bhola Run, Bhaiyyaji Superhitt, Shortcut Romeo and Paradise Street. In the meantime, gorge on her in the video if you like!
Photo and video courtesy: Glam Star sunglasses