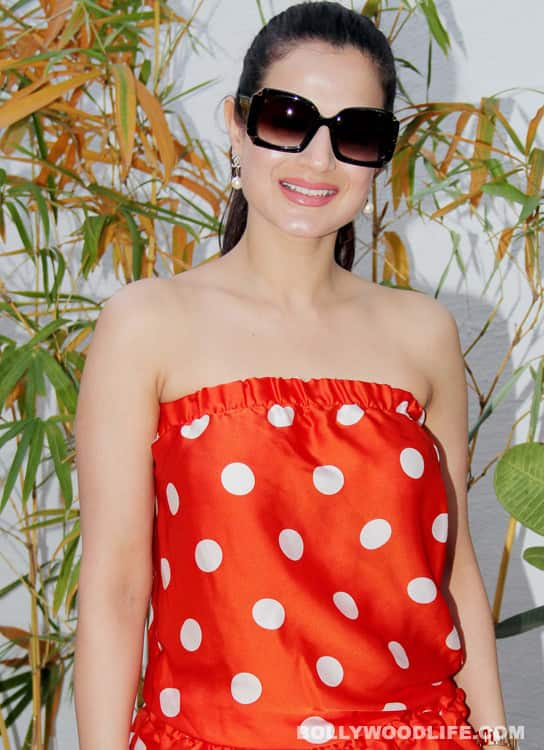 Rumour has it that from being an out of work actor to buzzing around busily, the Chatur Singh Two Star lady has no time for her ambitious maiden production project, tentatively titled Paradise Street
Beautiful Ameesha Patel's hard work to shape up and flaunt those fabulous curves is bearing fruit. The Chatur Singh Two Star actor has signed not one, but three films – Abbas Mustan's Race 2, Shortcut Romeo with Neil Nitin Mukesh and Superhit Bhaiyaji with Sunny Deol. Her last substantial role as an actor was way back in Reema Kagti's Honeymoon Travels Pvt Ltd, which was watched by many, unlike most of her films. After the 2007 drama, Ameesha did a series of bit parts that went down well, from Bhool Bhulaiya to Thoda Pyar Thoda Magic, Param Vir Chakra and Chatur Singh Two Star, but none of them boosted her career in any significant way. In fact, she was headed straight into oblivion, but before she got there she decided to take things into her own hands and turn life around. With a little help from "good friend" Kunal Goomer, she initiated a film production firm, just like so many other leading ladies who haven't had as much as success as they'd like – Lara Dutta and Dia Mirza, to name just two. Initially, it was reported, the beauty couldn't find a filmmaker to helm a flick with her in the lead role. But soon her search ended with director friend David Dhawan. And she quickly brought on board Rohit Shetty's Golmaal writer Yunus Sajawal to script the drama of a female streetwalker set in the Paris of the 1960s.
As luck would have it, Ameesha and her partner's efforts turned out to be badly timed, if not completely wasted. The Kaho Na Pyaar Hain debutant, after signing the biggies we told you about, has no dates to spare for her maiden production. As a result, it has now got pushed back to July. Isn't that irony at its best!
ALSO READ: Ameesha Patel is a baddie!