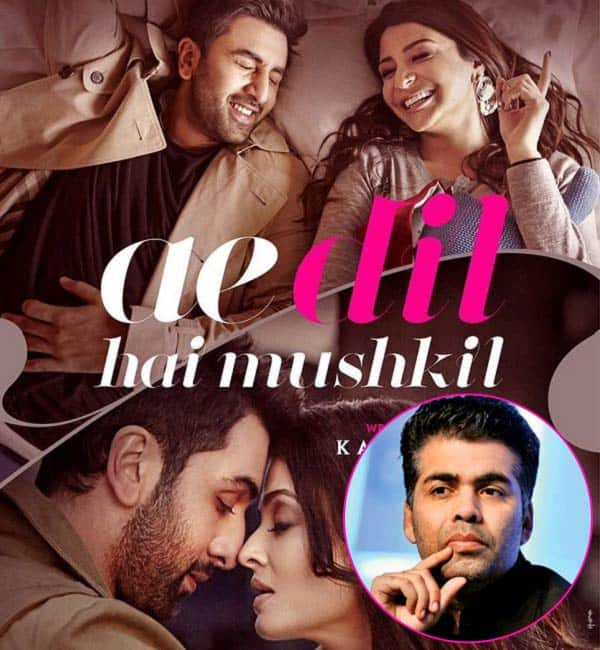 After various attacks and call for boycotts by various political parties on Karan Johar's Ae Dil Hai Mushkil, the release of the film was uncertain. Things went worse for Karan Johar when Cinema Owners and Exhibitors Association boycotted the film fearing the protest and damage to their properties. Amidst all this Karan Johar has met the Joint Commissioner of Police in Mumbai. He discussed the security measures for the film's smooth release. This is due to MNS' threat to vandalise multiplexes if Ae Dil Hai Mushkil releases. MNS leader Amey Khopkar said, "We will oppose the screening of the movie everywhere in the state. If any multiplex operator dares to screen the film, they (operators) should remember that multiplexes are decorated with expensive glass sheets."
Well not just Ae Dil Hai Mushkil, they also called for ban on Shah Rukh Khan starrer Raees, which also stars Mahira Khan as the female lead. So far things are not looking good for Ae Dil Hai Mushkil, as it's releasing alongside Ajay Devgn's Shivaay and is facing backlash from various political parties due to the presence of Fawad Khan in the film.
The film has been in news first for its big clash then for Karan Johar-KRK-Ajay Devgn controversy and now this. Many Bollywood celebs are have come out in support of Karan Johar from Varun Dhawan, Mukesh Bhatt, Alia Bhatt, Sidharth Malhotra, Pahlaj Nihalani etc. What surprising was the support of his current rival Ajay Devgn. He had said, "Sometimes, it gets difficult to remove anybody from a film that has already been completed. I feel, when people have shot a film before an issue has happened, they should be allowed to release it." Also read: Did Karan Johar stop Ranbir Kapoor from checking out Jacqueline Fernandez? View HQ pics
Mukesh Bhatt who is the president of the Film and Television Producers' Guild, has supported and had said, "The Guild in no uncertain terms confirms that the film industry stands in unison with the Government's recent steps to counter terrorism and will naturally abide by any decision taken by the central government with regard to government's future policy on issuance of work visa to foreign artistes; however, we would urge the government at the Centre as well as all the states to appreciate that the film producers who have already shot their films or are in the process of completing their unfinished films should not end up paying heavy price for no fault of theirs due to engaging the services of talent from across the border as these artistes were employed through proper legal channels prior to the recent escalation of hostilities. The Central Government has taken several steps in the past to foster cultural exchanges by inviting industry representatives to participate in the Government's efforts to improve our relationship with Pakistan."

Ranbir Kapoor and Karan Johar promote Ae Dil Hai Mushkil on the sets of Jhalak Dikhhla Jaa.

Ranbir Kapoor and Karan Johar snapped with Jacqueline Fernandez, Farah Khan and Manish Paul on the sets of Jhalak Dikhhla Jaa

Ranbir Kapoor looks dreamy as he recreates a moment from Ae DIl Hai Mushkil

Ranbir poses and looks extremely hot. We have loved Ranbir behind the mic right from Rockstar.

Karan Johar and Farah Khan didn't miss a chance to entertain us on the sets of Jhalak Dikhhla Jaa.

Karan Johar and Farah Khan dance along on the show. While Karan gives a wicked look, Farah continues to dance in full spirit.

Jacqueline Fernandez ignores Ranbir Kapoor's proposal again?

Looks like Ranbir Kapoor is fed up with Jacqueline ignoring all his proposals. Manish Paul consoles Ranbir in the act.

Karan Johar stops Ranbir Kapoor from checking out Jacqueline Fernandez.

Karan Johar turns Ranbir's face. We assume it was because Karan doesn't want his hero checking out Jacqueline.

Ranbir Kapoor goes on his knee to applaud choreographer Tushar Kalia.

We eagerly wait to see Tushar's performance to find out what made Ranbir Kapoor go on his knee and applaud the choreographer along with Manish Paul.

Ranbir Kapoor shakes a leg with the kids on the stage of Jhalak Diklhha Jaa.

Ranbir looks adorable as he dances with the kids on the show. This picture of Ranbir trying to match steps is too cute to handle.

Ranbir Kapoor closely checks out Manish Paul's funky shoes.

Manish Paul jumps on the table and happily flaunts his funky pair while Ranbir interestingly checks it.