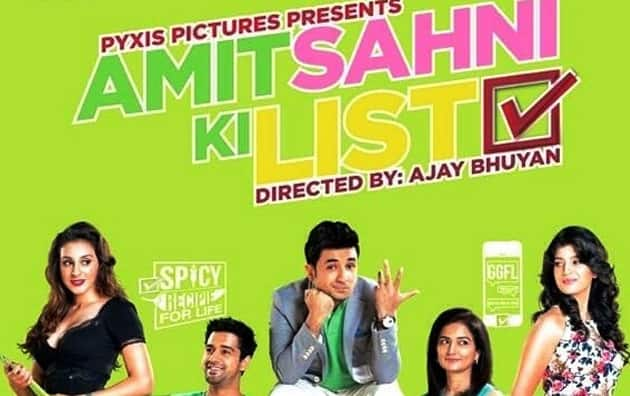 With generous dollops of humour mounted on a simple love story, the film succeeds in bringing a smile to your face
B-town's favourite comedian Vir Das turns hero in Ajay Bhuyan's Amit Sahni Ki List and proves he has the tenacity to carry a film on his thin frame. Yes, Amit Sahni Ki List manages to strike a chord despite its shortcomings thanks to breezy treatment of the story and Vir Das ofcourse. So lets jump into the review and see what's the film all about.
What's it about: It's a simple boy meets girl love story told with incessant jokes peppered all over it. Vir Das aka Amit Sahni is a hot shot investment banker who searches for his dream girl matching all the qualities mentioned in his unrealistic list. After a series of dates gone horribly wrong, Amit meets Mala, a girl who is 180 degrees opposite to his Ms Perfect image. The opposites attract and Amit and Mala fall for each other. But an interesting twist arises, when Devika arrives in Amit's life checking all the boxes of his list of perfect girl. Will Amit choose love over his obsession with the list wali ladki forms the rest of the story.
What's good: Vir Das is rock solid as uptight banker knocking gags after gags in almost each and every frame. Vega Tomatia and Anindita Nayar are rightly cast as Amit's carefree lover and Ms Perfect respectively. Natasha Rastogi as Amit's trendy mother and Kavi Shastri as his cheeky baker friend have given fine performances in limited screen time.  The director needs to be applauded for its uber cool treatment making a simple film a jolly ride. The editing is crisp and music is likeable. The film gathers steam in the second half as Vir Das-Anindita's relationship is handle interestingly. It's the little snazzy touches like Vir Das's constant chatter looking at the camera or the bull dog's thoughts conveyed in comic style boxes that makes the film look hip and cool and funny.
What's bad: Though the film is only 110 minutes long, it takes its own sweet time in establishing the plot and the characters. Infact, the second act of the film kicks in only after the interval. Few jokes in pre-intermission parts fall flat and the love story between Vir Das and Vega though sweet lacks depth.  Funny man Vir Das may have to work a little on his romancing skills learning from Shah Rukh Khan school of thoughts. The film is witty but lacks the emotional connect which may be a turn off for sappy sugary love story fans.
What to do: Though the film lacks the knockout punch to etch its impact on audience's memory, Amit Sahni Ki List is a refreshing take on the age old love story and definitely deserves a one time watch. Go with minimal expectations and you will not be disappointed.  
Rating: 3 out of 5
Reviewed by

Subramanian Harikumar

* Poor

** Average

*** Good

**** Very good

***** Excellent