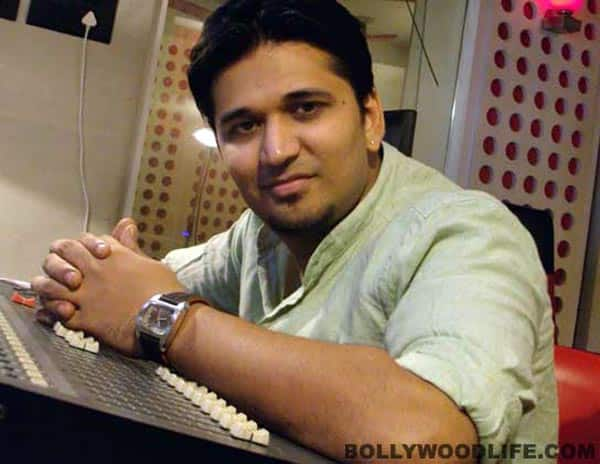 The Luv Shuv Tey Chicken Khurana music composer is the toast of B-town, and has worked with the biggest names in Hindi cinema. Known for his range and distinct sound, Amit Trivedi believes in taking each day as it comes
Amit Trivedi shot to fame with his amazing music for Anurag Kashyap's Dev.D. This year his music for Ek Main Aur Ekk Tu, Ishaqzaade, Aiyyaa and English Vinglish are strong contenders for the best music awards. His latest offering, director Sameer Sharma's directorial debut Luv Shuv Tey Chicken Khurana is climbing the charts. Though a bit under the weather, Amit exclusively shares the pressure that he deals with, his passion for music and his equation with his collaborators…
You had almost rejected Luv Shuv Tey Chicken Khurana; how did you come back on board?
When I was offered Luv Shuv… I had a lot on my plate and I didn't think I would be able to do it. I take about a year to compose the music for a film, sometimes even more. Luv Shuv took me a year and half to compose. Sameer (Sharma) was insistent that I do music for his film, and then when Anurag (Kashyap) stepped in, I had to be a part of it. It hurts me when I have to say 'No' to filmmakers, but I can't do every project that comes my way. Sometimes I have to reject films from big ticket filmmakers because I have to ensure that the quality of my work doesn't go down. If I let the quality be hampered, I will stop getting offers from same directors who will then say that I have lost my touch. So I would rather not do a film than let my work suffer.
Most of your superhit tracks have come from your collaboration with lyricist Amitabh Bhattacharya and Anurag Kashyap….
Amitabh and I go a long way; we have been friends for the longest time and he wrote the lyrics for my debut album, Om The Fusion Band. We have hung out together, had fun and we understand our space. Amitabh was struggling to get a break as a singer, but I thought he wrote very well. When I was offered Anurag's Aamir, I asked him if he would like to write the lyrics, he said, 'Ok, let us give it a try', and the rest is history. It is a delight to work with Anurag because he gives me complete freedom to experiment. He is open to all kinds of improvisations and that is something a composer needs most. I think I am connected to Anurag and Amitabh like some Bluetooth. (Laughs)
You invariably sing the best song on every album that you compose…
It is definitely not the case; I swear that I don't do it consciously. Please believe me, it is not so. I record the scratch version of the song in my voice, and the director decides to keep my version. There are many times I try to get other singers to sing my compositions, but it just happens that many times the director finds my rendition more suitable to the film.
Is there a lot of pressure on you to deliver hit albums?
Yes, there is a lot of pressure to come up with albums that strike a chord. There are times when I have to visit a doctor – to get injections to keep the sanity intact.
What is your take on 'item numbers'?
I don't think like that – for me the song has to be integral to the film. Take Chokra jawaan re from Ishaqzaade. You might call it an item number, but it is not. I was briefed by Aditya (Chopra) that it was a coming of age song where the boy had to prove to the girl that he is grown up and that he can satisfy a girl. Given the setting of the film, and the milieu I had to compose something that suited the mood of the film. Even the Jhalla song – I was not consciously making an 'item' song, it just turned out to be one of the more popular numbers on the album.
What happened to Om The Fusion Band? Will you collaborate again?
I don't think that will happen because we have all moved on to doing things that we want to. Amitabh (Bhattacharya) was a part of the band and we are still together, but the rest are doing other things.
You have worked with filmmakers like Aditya Chopra (Ishaqzaade), Karan Johar (Ek Main Aur Ekk Tu) and Anurag Kashyap. How difficult is it to work with different schools of cinema?
It doesn't change much for me because at the end of the day it is just me who has to compose the music. I don't even have a partner like Shankar-Ehsaan-Loy and Salim-Suleiman. I just stick to the brief and ensure that the music is up to the mark. Of course there are a lot of big names and money involved, but as long as the music comes from my soul and I am happy about it, that is all I care about. For me, the music should come out organically.
Of late your brand of music is compared to that of Sneha Khanwalkar. She is known for taking off to far away places to seek inspiration to compose. Is that how you work too?
Oh, is it so? I wasn't aware of that comparison, but that is not how I compose music. It is more internal for me. There are times when I head out too, but that is not very often.
Among your contemporaries, which composer do you look up to?
For me it is AR Rahman; I have learned everything from him. He has not taught me directly, but that is where my inspiration comes from. Rahman is my role model.
Do you have ambitions of winning a Grammy or an Academy Award too?
(Laughs) No, I have never thought about this. I like to take each day as it comes. I haven't changed much since I started; I have been the same person. I like to take each day as it comes.