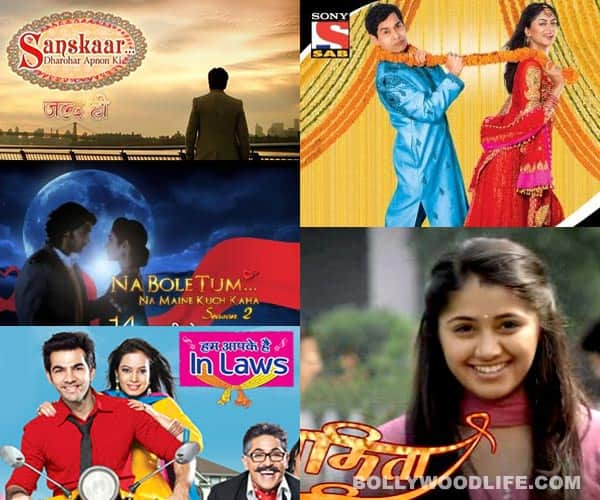 Five brand new shows are all set to take your little television sets by storm. Which one attracts you the most?
Tonight, it will be a war of sorts as various channels – SAB TV, Sony Entertainment Television and Colors – are launching new shows in the prime slot. But as you gear up – with yummy dinner laid out in front of you – to take in a new experience, we ask – which show amongst these five will you watch tonight?
Hum Aapke Hain In-laws
In the brand new show that's starting on SAB TV from today at 10 pm, you will get to witness the various day-to-day tricky situations that arise when you are living in joint families. This is the story of Damini and Gulshan Grover who stay in a semi-posh colony. How do you think they will fare?
Amita Ka Amit
In this reality check on mushy 'happily ever after' stories planted in our hearts by Karan Johar and his likes, you will meet Amita, who seeks her Mr Right but ends up with Mr Almost Right. The story reveals how certain compromises are necessary when it comes to real-life love stories. The show will be aired tonight at 8.30 pm on Sony Entertainment Television.
Na Bole Tum Na Maine Kuch Kaha: Season 2
In this second season of the popular show, you will see that two little children – Nanhi and Addu – have grown up with their own sets of issues. For starters, Nanhi hates her step-dad Mohan (Kunal Karan Kapoor). So how will the dynamics work out this time around? The show will be aired on Colors at 9.30 tonight.
Sanskaar: Dharohar Apnon Ki
Jay Soni will be be back with this brand new show that revolves around the musings of a family lad staying in the lonely set-up of a foreign land. This show will be aired on Colors at 9 pm.
Tota Weds Maina
In this brand new show on SAB TV, you will see Totaram Tiwari getting married to Maina who comes from a totally different background. And the show revolves around how the couple adjusts to each other's differences. The show will be aired from today at 9 pm tonight.