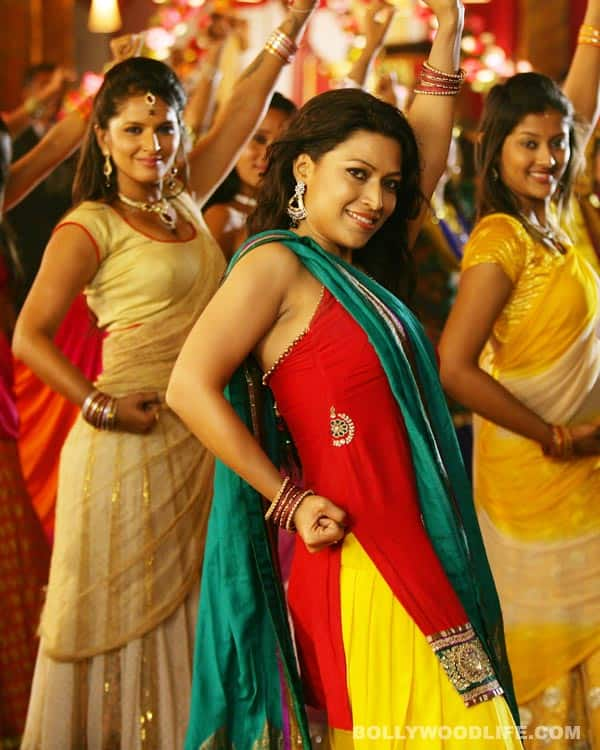 Offers and opportunities have arrived on a platter for renowned producer Kumar Mangat's daughter Amita Pathak. And she accepts it sportingly without resorting to far-fetched justifications about how it's been a rough ride in the industry and all that starry jazz…
The calm and not-very-fussy babe talks about what led to an array of frivolous altercations between her and co-star Pulkit Samrat on the sets of 
Bittoo Boss,
why she thinks musician Raghav Sachar is a potential beau and much more…
We heard about you being at loggerheads with co-star Pulkit Samrat, is this all a publicity stunt for Bittoo Boss, or you guys genuinely didn't get along?
Despite the quarrels, we let nothing come in the way of our professional lives 'coz we didn't want the film to suffer. It was like being in a love-hate relationship. We are poles apart and we had our own ideas about every small bit while working together. Our director Supavitra Babul became the peacemaker a lot of times. I think I am the sort who sticks to what she believes in and Pulkit is quite similar. So the differences in ideologies led to a lot of clashes between us. The only time he didn't really piss me off is when he saved me from falling from the bike while shooting for a scene (laughs).
How do you react when people direct innuendos at you saying that you are here only 'coz of your dad?
I think I've learned to ignore all of it. I know I am getting a platform only because he's such a big name, but at the end of the day it's me who has to survive in the industry. Once my work speaks for myself I am sure they will stop saying that.
You took on the sole responsibility of producing Atithi Tum Kab Jaoge (2010). Presumably it was a fairly easy task, considering you've grown up seeing your father deal with this business?
Yes, it wasn't that difficult for me. I did consult my dad and he warned me that if I was planning to take on this responsibility, I have to be completely involved in every small bit of it, from costumes to locations.
What would you give first preference to, acting or production?
I think as of now I should continue acting; production can happen any time. I think people had this perception that just 'coz I started producing, I have quit acting for good. But that's not the case. I act because I am passionate about it.
Your first film Haal-e-dil bombed; did that discourage you from taking on more work?
It definitely pulls you down when you don't get results. It does dampen your spirit when you slog for a year and a half and people decide the fate of your film in just three hours. That does make you feel low, but considering I've been in the industry long enough, I know how it all works. You have to get up every time you fall and move ahead. It made me feel low, but it definitely never made me think that I should quit acting.
Is something brewing between you and Raghav Sachar?
I think there might be a possibility of something happening. We have a lot of common friends, so we end up hanging out at a lot of places together. We are a huge gang, so I can't say if something may or may not happen.
Oh I love his music; he's very talented and has a great fan following (blushes).
Your movie is compared to Band Baaja Baarat – what's your take on that?
I think the comparison is evident because we have used a lot of similar colours and costumes. But I personally believe that Punjab is full of vibrant hues and if you are portraying their culture, it is bound to look similar, no matter what.
Tell us something about your character in the film…
I play a girl called Mrinalini, who's from a small town. She's fun and outgoing and knows how to enjoy life. She meets Bittoo, falls for him and that's what the movie is all about – how they take things forward despite their differences.
Any more films in the pipeline…
I am already doing a Punjabi film opposite Rannvijay Singh under Jimmy Shergill Productions and that's going to release in May.
What kinda films you want to do?
I want to do experimental cinema. I like romance, but I wouldn't mind action as well. I was an athlete in school, so to play someone like a Charlies Angel or Lara Croft would be super exciting.
Would things be harder if you weren't Kumar Mangat's daughter?
Definitely! I know people who have been struggling for years and they are still waiting for the correct platform. I am plain lucky.
How are going about honing your acting skills
I am watching a lot of movies. I believe acting is something you can't learn, it has to come from within. You grow with every movie 'coz every director has his own way of putting you in front of the camera. Also considering Dad makes a lot of films, I get to go on the sets, observe the actors and grasp it all…