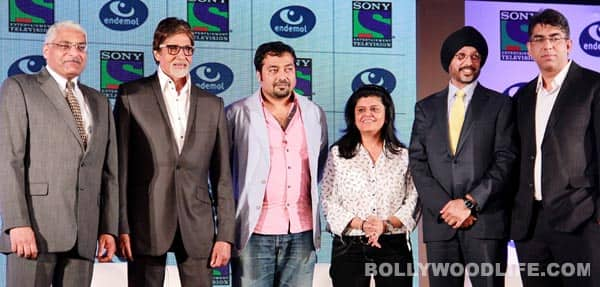 Big B to make his debut in a fiction format with the Bombay Talkies director Anurag Kashyap on Sony
Amitabh Bachchan, in his own words, gets bored rather quickly. And it's good that he does, for that is when we get to see the Big B experiment, thereby giving us shows like Kaun Banega Crorepati and films like Paa and Bombay Talkies!
And it seems this time Bachchan has chosen Anurag Kashyap to go out on a little adventure tour with. The duo, who only recently shot for the movie commemorating 100 years of Indian cinema, is coming up with a fictional show on Sony TV for which they will start shooting next week. "I was so bored, and with no interesting offers coming in, I quietly without informing my family took this decision," said Bachchan at a press conference announcing the show. He also said that this wasn't a hasty decision as there had been six months worth of meetings between the channel heads, Kashyap and Bachchan.
Kashyap, on his part, said that he is excited to be responsible for Amitabh Bachchan's debut in a fictional show on television. "Mr Bachchan is very demanding, especially because he wants to break new ground on TV."
About the risks that he is taking, the superstar said, "I'm 71 now, and I plan to do all kinds of roles that I missed out on. Even when I did KBC people told me that doing television would lower your stature, being a film star. But it didn't happen that way, and I'm glad I did it."
Though the two did not reveal any more details about the show, it it said that it will be a fictional show with limited number of seasons. "We can't tell you anything right now, but the fact that whatever we're planning, it's very exciting and we can't wait to start shooting," said Kashyap.
Well, keep watching this space folks! There are some exciting things on TV about to happen!