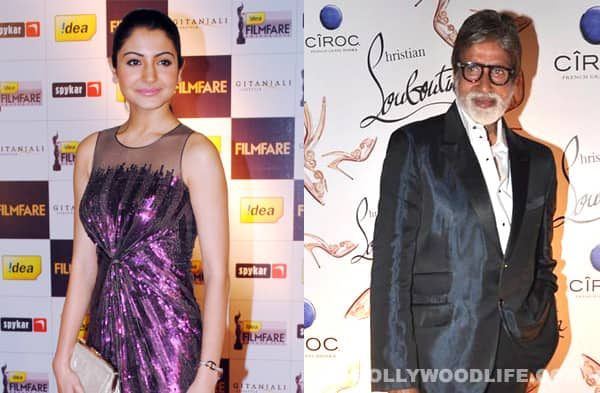 The stars made it a point to meet the 'king of shoes' recently. While Amitabh Bachchan was present at the designer's store launch, Anushka Sharma met the designer one-on-one at the hotel where he was staying
Amitabh Bachchan made an appearance at the red carpet event of famous designer Christian Louboutin's second store launch at Horniman Circle, Mumbai. Bachchan was spotted wearing a sleek blue suit at the event. But Bachchan confesses that his association with Louboutin doesn't end at his presence at the do. He has met the ace designer at the Morocco film fest as well, when Mr L placed a peacock at the actor's side – the Big B was only glad that the national bird of India behaved itself, he laughed! In fact, AB Sr wore one of designer's creations while having a confab with director Steven Spielberg. So the star considered it quite an honour to be part of the shoe king's store launch.
Anushka Sharma, on the other hand, had no bird story to tell. She was supposed to be at the store launch event, but couldn't make it because she was busy with a shoot. The babe's meeting with the designer makes for another interesting anecdote. It seems that Louboutin was really keen to meet the sexy actor and was even willing to drop in at her shoot. But Sharma is a huge fan girl and, like all chic-chicks a Louboutin loyalist, and she couldn't-wouldn't let the designer come all the way to where she was doing her acting thing – that would be in a way taking him for granted, she felt. So after she got absolutely free and had taken off the pancake, Ms Sharma arrived at the Taj Mahal hotel to hobnob with the man whose shoes have made her stand out in the crowd on numerous occasions. Case in point: AS at the India Today conclave – she attended the event wearing black Louboutin pumps and looked lovely!