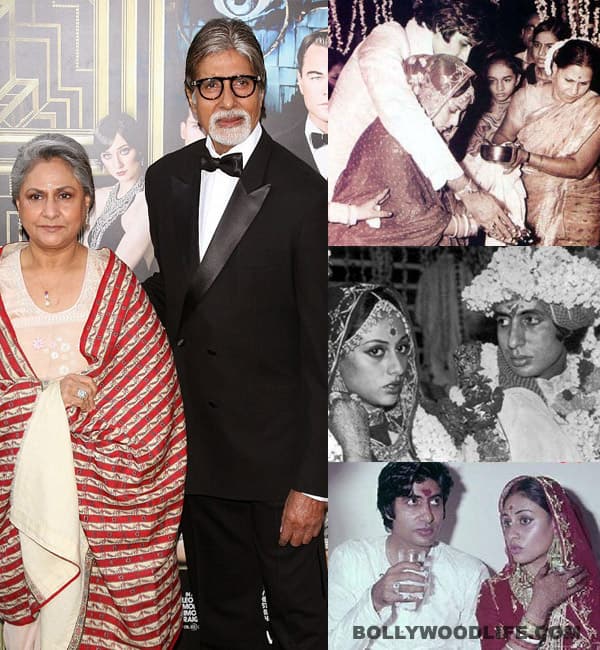 The first couple of Bollywood have been together for 40 long years. We take a look at Amitabh-Jaya's life and some of the memorable films in which they were an onscreen couple
Their love story is as legendary as their fame and success in Bollywood. Amitabh Bachchan and Jaya Bachchan have been married since June 3, 1973 and will complete 40 years of togetherness today. What makes them so special?
The two actors appeared in quite a few movies together, starting with Zanjeer (1973), which released in the year they got married and also helped Big B to get into the top league of Bollywood. In fact, it was to celebrate the film's success in May that Amitabh and Jaya wanted to holiday abroad, when Big B's parents insisted that they get married before the trip. And so, the wedding happened in June, and in July another classic film starring the two released. It was Hrishikesh Mukherjee's Abhimaan that dealt with ego clashes of a couple belonging to the same profession. Ironic!
Last year, in an interview to Filmfare magazine on the occasion of Sr Bachchan's 70th birthday and his 40 years in Bollywood, Jaya spoke fondly of the day when she saw Amitabh for the first time – it was at the Film and Television Institute of India in Pune. "But I was introduced to him on the sets of Guddi. He was supposed to play the role eventually done by Samit Bhanja but Anand released and Hrishikesh Mukherjee didn't want a known face to play the character of a man who wasn't impressed with cinema," she reminisced, amidst planning for the now-famous celebration at the Reliance MediaWorks.
Amitabh and Jaya starred opposite each other in the iconic Sholay and Mili in 1975. Hrishida's lovable Chupke Chupke also released the same year. In between, Jaya took a break and the two had beautiful babies – Shweta Bachchan (now Nanda) and Abhishek Bachchan. While Big B took care of Shweta as a baby, when Abhishek was born he was too busy, says Jaya.
Yash Chopra's Silsila, about an extramarital affair, came in 1981. It was controversial, as it was rumoured to mirror Big B's fling with his so-called real-life muse Rekha who starred in the film too. But Jaya and Amit (as she calls him) sailed through it all, just like they did two years later when tough times struck again – Amit had a near-fatal accident while shooting for Coolie. Nothing but the prayers of millions of fans saved him, believes the superstar even today. Jaya was by his side all through.
After a hugely successful career, came a lean phase when Big B was stuck in a rut. A series of flops and the failure of his company Amitabh Bachchan Corporation Ltd (ABCL) followed, but Sr Bachchan rose like a phoenix in 2000 – not as film hero but a TV show host in Kaun Banega Crorepati. His place was etched in the hearts of millions of Indians again – this time not as lead hero but as a friend, philosopher and guide, and with a loving grandpa image – a far cry from the 'angry young man'.
In between, Amit and Jaya made a special appearance in Marathi film Akka (1994), a goodwill gesture for his makeup man Deepak Sawant who was the producer. In Bollywood, the two thespians came together again in Karan Johar's Kabhi Khushi Kabhie Gham (2000). In 2013, they were seen in a cameo in Sawant's Bhojpuri film Ganga Devi. The makeup artist has been with the Bachchans for 40 years – lasting as long as their marriage.
The royal couple of Bollywood recently attended The Great Gatsby premiere in New York and looked great together. It seems they work and live together totally in sync, and in love, of course. Here's wishing Amitabh and Jaya Bachchan a very happy 40th wedding anniversary. Send in your wishes!