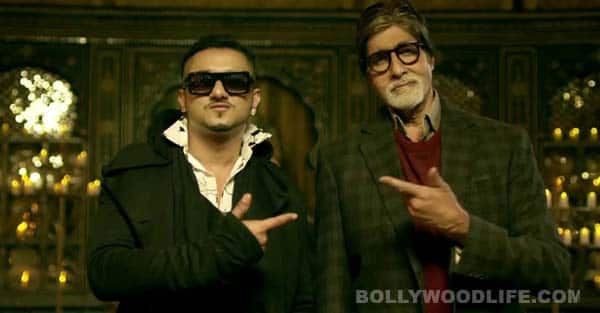 Big B and Honey Singh's Party with the Bhoothnath song is out and though it's not as good as Lungi dance or Char bottle vodka, this rap number is a decent hear
After watching the teaser of Amitabh Bachchan and Yo Yo Honey Singh's much hyped song Party with the Bhoothnath, we were expecting a dhasu number which would blow away our minds. But sadly that hasn't happened. Maybe coz this time Honey Singh has composed a song for a film whose target audience is the baccha log. Nonetheless, Party with the Bhoothnath isn't bad at all. In fact, we loved the whole picturisation of this track. There is a scene where you get to see bats flying out of HS's coat which is nicely done. Of course the bats aren't real but visually its appealing. Even the skeleton dancing was super fun to watch. Also, there is  spooky element in the background music which is very interesting and goes well with the theme of the film. In the video, you get see Singh and Sr Bachchan shake a leg together. Though its just for a few seconds, it nice to see the 71-year-old superstar match steps with the 31-year-old singer. Over all, the new song from Bhoothnath Returns is just average. But we are sure Honey Singh fans will like it any which ways!
Bollywoodlifers quickly hear this song, watch the video and tell us what you think Yo Yo Honey and Amitabh Bachchan's after party wala rap number!