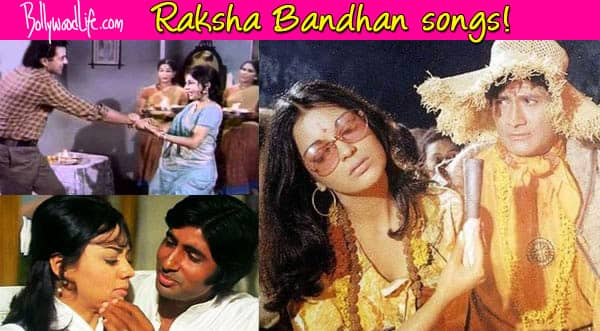 Bollywood's 10 evergreen Raksha Bandhan songs…
From time immemorial, the brother sister relationship has been used to good effect in Bollywood movies and a lot of songs have been dedicated to honour this relation. Over exaggerated as these songs might be, our Raksha Bhandhan seems to be incomplete without these gooey songs. Since the current Bollywood scenario has witnessed a change in this trend, we decided to give you all, a blast from the past with some of the yesteryear hits which glorify Raksha Bandhan. Go ahead BollywoodLifers, check out these awesome songs:
Behna ne bhai ki kalai se (Resham Ki Dori)
This song from Dharmendra's film, Resham Ki Dori, is one of the most popular numbers of the Rakhi festival. The title of the film itself suggests that the film is largely about the brother-sister bonding above anything else.
Bhaiya mere rakhi ke bandhan (Chhoti Bahen)
This song from Chhoti Bahen starring Nanda and Balraj Sahani is a very popular song which has become to be a very crucial element of our festival.
Phoolo ka taaro ka (Hare Rama Hare Krishna)
Dev Anand and Zeenat Aman have often been romantically paired onscreen. But in one of their earlier films, Hare Rama Hare Krishna, they played siblings who are separated in childhood. Phoolo ka taaro ka is the most commercial hit song around Raksha Bandhan.
Dekh sakta hoon (Majboor)
Amitabh Bachchan in this song expresses his love for his screen sister Farida Jalal in the film Majboor. The film resorts to one of the old clichés of Bollywood where the hero's sister is often handicapped.
Yeh rakhi bandhan hai aisa (Be-Imaan)
Celebrating the bond between siblings, is this song from Be-Imaan starring Manoj Kumar. It's a perfect Rakhi song that is sure to bring tears to your eyes.
Mere bhaiya mere chanda (Kaajal)
This song, from the movie Kaajal, is all about a sister's love for her brother. She expresses her feelings for her brother and prays for his well-being.
Hum bahenon ke liye (Anjaana)
This Rakhi song from Anjaana symbolizes the fact that a brother is always there for his sister, no matter the distance.
Rakhi dhagon ka (Rakhi)
This song, Rakhi dhagon ka tyauhar, is a perfect tribute to the festival. It depicts an ideal brother sister jodi in the form of Ashok Kumar and Waheeda Rehman.
Meri rakhi ka matlab (Tiranga)
While most Rakhi songs come from earlier films, Tiranga is relatively recent, to celebrate the festival. Varsha Usgaonkar ties rakhi to her 3 brothers in this song.
Ab ke baras bhejo (Bandini)
This song from Nutan's Bandini showcases a sister's yearning for her brother on Raksha Bandhan. Sung by Asha Bhosle, it's a soulful number.