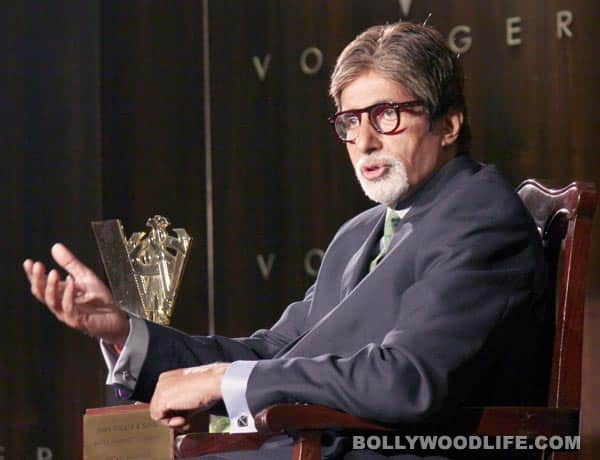 The actor was at home at the recently held at Chennai International Film Festival and even donated Rs 11 lakh to the festival fund
Bollywood megastar Amitabh Bachchan, who was invited as chief guest at the fest's closing ceremony on December 20, said he is willing to be there and support as many film festivals as possible. Big B said, "I'd be more than happy to be part of many film festivals and be of some help… even if it means that I should be an usher, I'd be more than happy to help."
The legendary actor donated Rs 11 lakh towards the Chennai International Film Festival (CIFF) as a token of appreciation. "I'd like to donate Rs 11 lakh towards CIFF for the relentless effort they've put in organise the event. I've come to learn that when CIFF was originally formed in 2003, they struggled to raise funds. I don't want them struggle anymore and therefore have decided to contribute some amount from my end," said Bachchan.
Bachchan crooned a few lines of the song Kabhi kabhi mere dil main from his film Kabhi Kabhie (1976). Artist-singer Mohamed Illiaz, known for sketching while singing, sketched Bachchan on stage as he sang.
The actor also spoke a few lines in Tamil as he addressed the gathering. "Bollywood may be bigger in size and popular, but it still needs to learn from the Tamil film industry. I've shot for a few films in Tamil Nadu, and built strong camaraderie with the industry, and in turn have understood how disciplined they are and the affection with which they treated me. This is something Bollywood needs to learn from them," Bachchan said.
"The Indian film industry may be the largest in the world but a major proportion of it consists of the southern film industry. The Tamil film industry is the pivotal part in the South and one can't ignore it come what may," the actor said.
The eight-day 10th Chennai International Film Festival screened 154 films from 50 countries.
ALSO READ: 
Delhi gang-rape: Akshay Kumar & Amitabh Bachchan don't want election coverage overshadowing the case