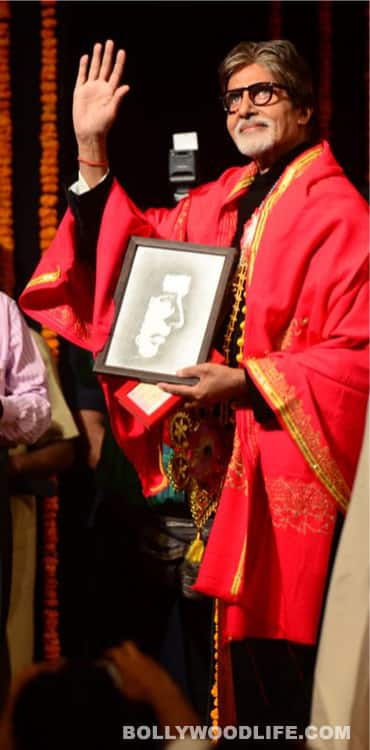 skip advertisement
The actor was honoured at the South Indian Education Society, and he promptly donated his cash award of Rs 2,50,000 to the deceased Delhi police constable's kin
Bollywood legend Amitabh Bachchan received yet another honour, this time by the South Indian Education Society (SIES), Mumbai. He got a citation and Rs 2.5 lakh as a cash award. But the Big B, as he is known to his fans, was generous enough to donate his entire award to the family of deceased Delhi Police constable Subhash Tomar. The cop died of a heart attack during protests in the national capital over the infamous gang-rape incident.  
Bachchan wrote on Facebook, "Another Award for Excellence by the SIES, South Indian Educational Society .. humbled to be considered for it, in the presence and past awardees of this association – people of much greater eminence … am given among other emblems of the citation, a cash prize of Rs 250,000 .. I have donated it to the family of the police constable who was critically injured in the protest for the gang rape victim in Delhi … he succumbed to his injuries and died this morning … he was the only earning member of a large family !! Sad !!"
He also prayed for the quick recovery of the Delhi gang-rape victim, Nirbhaya. Big B wrote, "Sad too to find that the victim of the rape has slipped back in her medical condition at the hospital where she fights valiantly for her life … our prayers for her and her speedy recovery …"
The actor earlier refrained from posting pictures of the award function on his blog, saying, "I have pictures of the moment, but something in me resists its posting on the Blog and other sites .. I cannot say why … but it does …". But he later shared some images on social networking.
Congratulations to Amitabh Bachchan and wethinks his generosity needs to be emulated by more Bollywood stars. What do you think?
Photos: Amitabh Bachchan Facebook