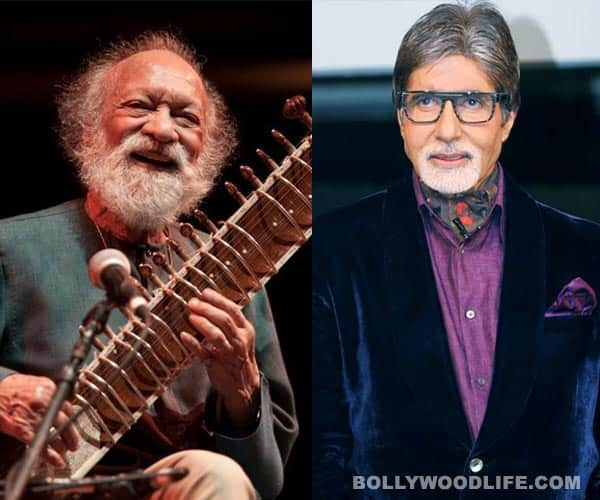 The actor calls this his 'most privileged moment', and shares more on his family's association with the sitar maestro and his elder brother Uday Shankar
Prolific blogger and legendary actor Amitabh Bachchan got a tinkle from none other than Grammy Award-winning sitar maestro Pandit Ravi Shankar last night, even as the musician was preparing to go in for surgery. Although Bachchan thought it was a strange occurrence, he recalled his association with the maestro and also his elder brother, the famous dancer-choreographer Uday Shankar.
Bachchan said on his blog on Tumbler, "Strangely, and for the first time, I had a call from the house of the great sitar maestro Pandit Ravi Shankar. His wife Sukanya ji wanted to talk to me to get me to talk to Ravi Shankar ji, because he had expressed a desire to speak with me. He has been unwell she informed me and was going in for a surgery on Thursday…. This has been a most unusual occurrence. We all know Pt Ravi Shankar…but I must admit that even though we have met on a few occasions, his association with my Father, our association with his elder brother the great dance exponent Uday Shankar, my own association with his son and daughter in law, and with Uday Shankar ji's actress daughter … this has been the first time ever, when such a request was made to me."
Big B remembered how he had attended – or rather gatecrashed – many concerts during his working days in Kolkata where Panditji performed with sarod wizard Ustad Ali Akbar Khan, tabla guru Ustad Allah Rakha as also another sitar stalwart Vilayat Hussain Khan.
The actor also mentioned Shankar's daughters, the talented musician Anoushka and the Grammy Award-winner Norah Jones. Panditji's first marriage was to his guru Ustad Allauddin Khan's daughter Annapurna Devi who was a sitar player as well. "Such exceptional talent … all in one blood stream !!", observed Big B.
He signed off saying, "…to get a call from this great master, this legend and icon of Indian music, must go down as one of my most privileged moments. He just wished to speak to me. He is unwell and shall be undergoing a surgery on Thursday. He said he and his wife loved my work … whew !! … and then he blessed me !"
Big B urged his EF – extended family of fans – to pray for Ravi Shankar's good health. BollwoodLife wishes the sitar ace a speedy recovery.