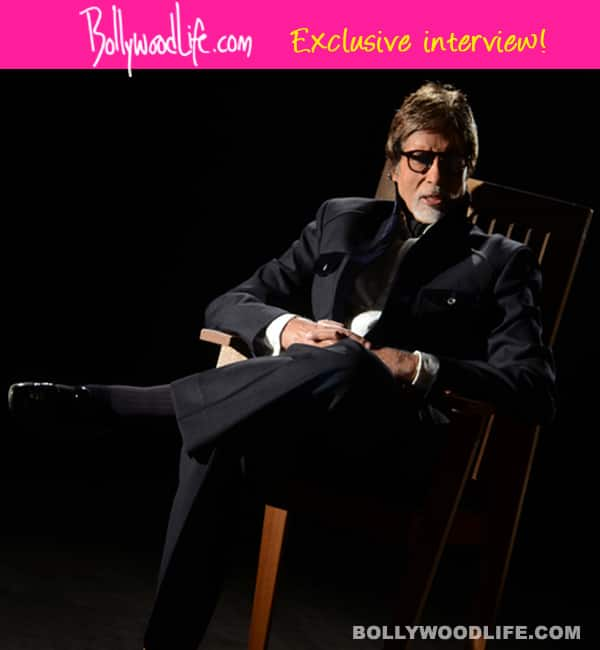 The legendary actor of Bollywood talks about his 70th birthday plans, his granddaughter Aaradhya, his career and his contemporaries
It has been one long journey difficult to describe in words for this Man of the Millennium whom they call Amitabh Bachchan. The actor turns 70 on October 11, and all these years he has crossed turbulent storms, faced threats, terrors, fears and even death. But he is as alert and active as a 30-something man with unflinching thirst and unmatched passion for acting, and excelling at it for more than 40 years. And this is exactly what makes the young and lean man who came to Bombay to make it in films may years ago, more than a legend today.
On the eve of his 70th birthday, we cornered the baap of Bollywood to wish him in advance, and we not just hope, we want God to bless the Mahanayak good health, happiness and success always. We also got him talking on his birthday plans and how grand he wants his granddaughter Aaradhya's first birthday to be. Curious? Read on to find out more.
Sixty is considered to be the new 30, but in your case, 70 is the new 30. Have you made any resolution to do only certain kinds of films or roles, or you would accept any role that excites you even if it has some action scenes that are physically very demanding at this age?
First, I don't make resolutions, and second, I'm not in a state to make resolutions because I'm 70 now and obviously I can't play a 30 or 20 year old. If anything that is offered to me, interests me, I will do it.
Every Sunday, we see fans anxiously waiting for hours outside your bungalow to catch a glimpse of their favourite actor. How big a fan have you been of Amitabh Bachchan?
How can I look at myself differently? You are making me sound 'adjective' when I'm just a 'noun' (smiles). I try to meet and greet as many people as possible on my birthday. Yahaan se upset hoke na jaaye woh log. I happily click photographs, sign autographs and try to fulfill their wishes as much as I can.
Does the figure 70 scare you? What do you feel and what are your expectations?

No, why? (After a long pause…) I'm slightly scared. I can't understand why people consider 70 to be some kind of a landmark. Why not 71, 72…?
On your 70th birthday, how do you look back at your career, especially the highs and lows?
Every human being goes through this phase. There are highs, and so there will be lows. Everything that goes up, must come down. I don't think that I am particularly gifted with only highs. We all have our highs and lows. It's just what kind of attitude you have to it. If you have success, you should be aware that it's going to be short-lived. If you have lows then if you have the courage to fight back or make an attempt to come back, it's good.
Will your birthday give you extra quality time to spend with your granddaughter Aaradhya?
Yes, why not?
There is some surprise birthday celebration being planned by your family. Are you aware?
There's no surprise. If there's a surprise party, then why are you telling me? I assume something is happening but I don't have any knowledge about it. I guess Jaya is planning something with Aishwarya and Abhishek.
What are the fond memories of your earlier birthday celebrations?
Jaise sab ka janmadin manaya jaata hain, waise humara bhi manaya jaata hain.
Whenever Aaradhya steps out, there's a lot of curiosity among the media, especially the photographers. It sometimes results in invading your privacy. Do you feel disheartened?
In today's world, how can there be privacy? The moment you step out, there are one billion cameras that follow you.
Soon after your birthday, is your grand daughter's first birthday (November 16). Another grand celebration in the offing?
I don't know. Kuch karenge. Sab kuch aap hi ko bata denge toh kaise chalega?
After a four-decade-long career, what is it that makes you want to get up in morning and go on the sets? It can't be just the wish to earn your bread and butter, can it?
I get up in the morning because I have commitments – to work. I have to be there at a particular time. I have to take time for my normal routine – go to the gym, return home, get ready and go to work. If I get a job, I have to honour it.
Talking about work, when compared to your contemporaries who are almost of the same age as you, do you think God has been more kind to you in the sense that they hardly have any work or no work, but you probably have more films on your hand than even the younger actors. What do you think is still working for you?
I have never judged myself because I don't think I'm qualified enough and have the talent to do that. It's not right to think that my contemporaries have no work and they aren't doing well, be it Vinod Khanna, Shatrughan Sinha, Dharmendra or Shashi Kapoor. Yes, Shashiji has not been keeping well for some time now. But Rishi Kapoor and Dharmendra are still working and doing good roles and good films. Shatrughan and Vinod managed to do which I couldn't. They entered politics and became Members of Parliament. I didn't do that. Aisa kahaa jaaye toh main unse peeche hoon.
You're being modest as always, but you certainly cannot ignore or run away from your fame and popularity among the masses sustained till today.
I have never considered or given any importance to the so-called popularity quotient, being an actor. That is all in the mind.
Do you ever try to evaluate your work as a normal film-loving audience?
If I assess my work as an audience, I see a lot of error and mistakes in my craft. So I think it's better not to do it.
You've worked with a generation of actors and filmmakers. Till today, lots of young and brilliant filmmakers are desperate to work with you; some even aspire to work with you at least once…
Kahaan hain aise log? Jaldi bhejiye unko mere pass (Where are these people, please send them to me fast). You would know them. I haven't seen anybody in the recent past. If you know them, please immediately tell them that you have access to me and make us meet.
Considering the offers that come your way, does it become difficult for you to say no to certain projects?
Yes, I have a problem saying no. But I'm trying to get over it. Obviously, I can't be working in all the projects offered to me. But by and large, if a story is appealing, and if I like what I'm going to be doing, I mean the production and the people that I'll enjoy working with, then why not?
When was the last time you auditioned for a role?
Nobody has called me for an audition so far. (Think for a while) No I can't remember auditioning for a role. Either they took me or rejected me. People come to me with a script and a pre-determined idea as in what they want me to play.
Do you think film business today is just relegated to days and not weeks as it was in your time? Your films have been golden jubilees and silver jubilees. But that's not the case today. How do you look at it today?
I think it's due to the greater opportunities and varieties in factors of entertainment whether its television or any other thing. If you don't feel like watching a film in theatre you can watch it on television. The attention span of all these products has reduced but demand of money that they generate is efficiently large for them to finish off in a week or two and they move on. Now that's the perspective industry has to decide. In France, they count the footfalls and not the money and that's how they decide whether the film is successful or not. This is something the trade will have to decide. The attention span of the new generation is very limited. I believe it's because of computerisation and the Internet, and having easy access to and having answers to your questions in just a matter of half a second. This instance  is also largely responsible for our attention.
The number of edits today in a film will be much more than for movies released in the 1940s and '50s. When I interact with some industry folk on social networking sites like Twitter and Facebook, they tell me that a film of mine, like Don for example – looking at the time span it ran when it was released – if you compare it with today's time and the value, it's over Rs 200 crore. Some films have gone over Rs 300 crore. But that was not mentioned at the time. The success of a film was measured in terms of weeks and not money.
You have always believed that age is just a number game. But there must be times when age would limit your physical ability to do more work as an actor. Why don't you slow down your pace of work?
You'll have to explain me what slow down means because for an actor the term slow down could be dangerous. Every actor should understand it better. I don't think that I'm overworking. So if you tell me to slow down, I'll be actually losing work. I'm comfortable doing this much amount of work.
You have always said that what intrigues you about Kaun Banega Crorepati is the fact that it offers you an opportunity to meet new people from different walks of life and know the common man and his problems more closely. You seem to be enjoying more this season as compared to the last couple of season.
Every contestant is a special guest on KBC. The set is almost like my family and so I deal with every contestant on a very personal level. It's like how you treat guests who visit your home. But the main objective for every contestant is to come, play carefully with all your knowledge and win good amount of money.
Besides KBC, what keeps you busy this year?
There's Prakash Jha's Satyagraha which we'll start shooting soon. Sudhir Mishra's Mehrunissa, R Balki is writing the script and he wants me to do the film. And there are a few others but it's too early to talk about it.