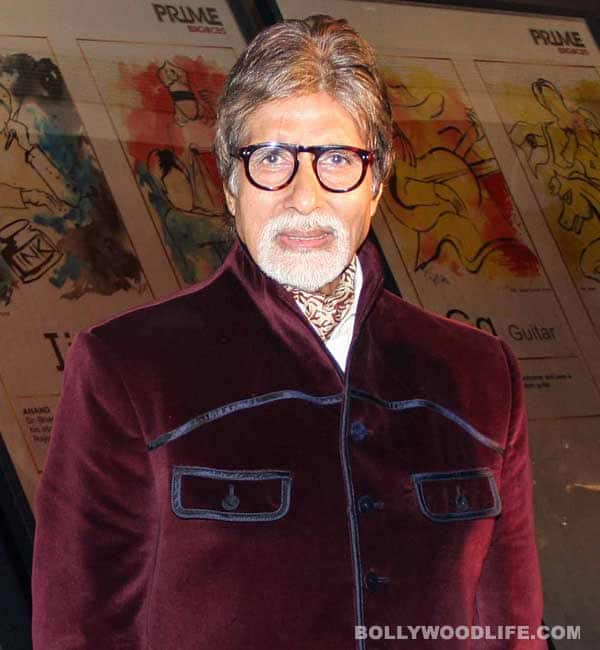 On his 71st birthday, Big B talks about his family and work. Read on to know what message he has for his fans!
Another birthday is around the corner. How do you intend to bring in this one?
As quietly as possible… With the family and a bit of solitude…
You will have hordes of fans outside your home again this year…
They have all been extremely kind, generous and tolerant towards me. I wonder often what it is that keeps them with me even after so many years. It surprises me to find their love and affection through the ages and I can only thank the almighty for this. They have all now become an integral part of my extended family. A family to whom I am indebted.
How do you cope with the constant attention and the ceaseless demand on your time?
There are two ways to look at this. One, that you are still wanted. Which quite surprises me often. And two, that if they still want me it becomes imperative that I concede to their demands. It is uncomfortable for me to refuse an invitation, and so when it comes my way, I find time for it.
One of the joys of growing older is to see new generations have their way, and say. In that context what role do you see Aaradhya and your other grand-children playing in your life?
The elders shall have to accept that they have to give way to the new and the young. There shall come a time in all our lives when we, the elders, shall not be able to walk along or think as speedily or differently as do the young. The sooner we accept that the better. Having said that, there are certain principles and norms that the elders set for us, and it becomes mandatory, at least for me and my immediate family, to respect that. I shall always respect aspects of my father and mother's upbringing, their values and their teachings.
I would imagine and expect that my next generation think the same way about certain basics that we give them. But both Jaya and I are fairly liberal in our thoughts. We would like to strike a balance between the traditional and the freedom of the youth in their modern thought process. We are happy with this understanding, and our children and grandchildren have so far not disappointed us. We hope that Navya-Naveli, Agastya and Aaradhya play roles in their lives that shall be in keeping with what we expect from them.
How different is your bonding with Aaradhya as compared with what you shared with Abhishek?
I cannot say just yet. She is too young at the moment and still trying to discover who is what and where, around the very busy and extensively travelled life that she is leading. But in time to come as she grows, I would like to be as close to her as possible, become her confidant, her friend, her bodyguard (laughs).
Considering Jayaji gave up stardom for marriage and motherhood, what is your take on your daughter-in-law's return to acting?
Neither Jaya or I have any reservations about her returning to work . It is entirely her decision .
How do you still manage to generate unflagging enthusiasm for your work, for fans and for every aspect of your life?
Work, if you have accepted that it is work, needs the kind of enthusiasm that it is connected with. It needs complete attention and the desire to be able to give it your best. Otherwise why accept it.
Work keeps the mind occupied, attentive, and enthused – essential ingredients I would presume for any creative occupation. Fans give you so much love and affection. It would be rude and uncalled for if I were not to reciprocate them.
There is a growing clamour to read your autobiography.Would you ever reconsider doing it?
No, never!
Tell us about your upcoming projects.
I have just started Bhootnath Returns. Then hopefully by the beginning of the next year will start R Balki's, Sujoy Ghosh's, Shoojit Sircar's and Vidhu Vinod Chopra's film. There are several others like Rumi Jaafrey, Anurag Kashyap, Abbas-Mastan, Umesh Shukla, Sudhir Mishra… And of course KBC by the middle of 2014 again.
Your message to your fans, friends and well-wishers this birthday
Thank you for being with me for these past 45 years. I shall ever be indebted.