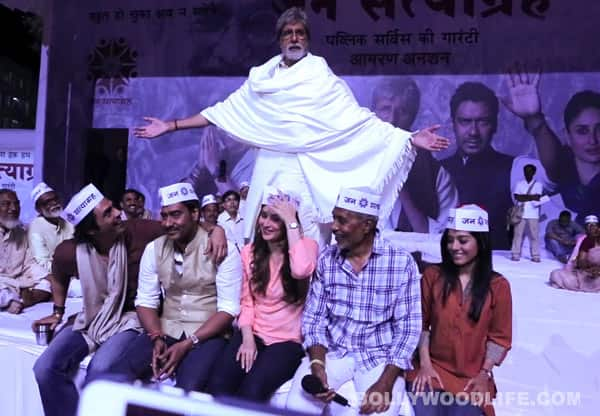 Look how the lead actors of Jha's new political thriller have a blast on the sets of the movie, courtesy topis!
Prakash Jha's multi starrer political drama Satyagraha seems to be a serious affair, like most of his projects, but he along with his movie stars – Amitabh Bachchan, Kareena Kapoor, Arjun Rampal and Ajay Devgn – surely know how to spin around a dull moment and turn it into a memorable yet interesting one!
We present you an exclusive behind-the-scenes video of Satyagraha featuring the Sabko topi pehnao campaign where Jha and his entourage of actors is seen having a ball. Kareena wears a topi with 'Jan satyagraha' written on it and poses for a picture taken by Arjun! Soon Amitabh enters the frame and delivers a movie dialogue – Humari yeh prarthna hai ke yeh topi janta ko pehnai jaaye, sarkaar ko pehnai jaaye, which has Rampal in splits. The captain of the ship – Jha – interrupts Bachchan, pointing a finger towards him and saying, "Humein topi pehnane wala!" As Ajay enters the shot, he too wears a topi, like his colleagues.
Take a look at the humorous video and tell us if you like the topi act!