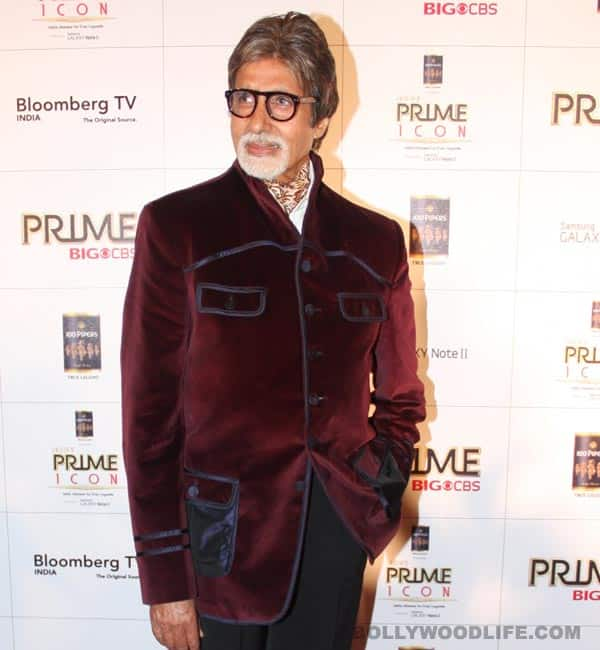 At the Stardust Awards 2013 held on January 26, Big B played out his Jumma chumma number by planting a peck on the cheeks of these B-town babes
During the Stardust Awards 2013 held on the weekend, host Ayushmann Khurrana asked Amitabh Bachchan to perform to his hit song, Jumma chumma (Hum). After dancing to the number, Big B jokingly asked if anyone would like to get a chumma (kiss) from him. Little did the veteran know that young B-town babes would make a beeline to the stage to get a kiss from him!
Priyanka Chopra, Vidya Balan, Anushka Sharma, Bipasha Basu and Farah Khan quickly ran to the stage and lined themselves up for the peck. Mr Bachchan was his usual charming self and decided to keep his word. Anushka, who felt a little shy in the beginning, was ecstatic when Big B actually landed a kiss on her cheek. And PeeCee and Vidya were giggling like school girls, standing in line for their turn! "@SrBachchan said who wud want my chumma in jest..Me Vidya Farah bipS and anushka ran up like school girls saying 'we do'! And got the coveted kiss too! Haha! Love u @SrBachchan ! Ure the best!"  PeeCee tweeted.
Sr Bachchan also wrote on social networking: "What a day. Last shots for KBC, then at Aadesh Srivastava studio for Concert of Peace rehearsal, then Stardust Awards – Abhishek wins for Best Actor Comedy/Romance, and they give me one for Star of the Century.. make me dance to 'Jumma Chumma' and when I ask 'kisko dena hai chumma' … all the beautiful ladies run up on stage and get a peck from me … who ?? Vidya Balan, Priyanka Chopra, Bipasha Basu, Farah Khan, Parineeti Chopra, Anushka Sharma .. OOH BOY !! What an evening !!"
Obviously, the 70-year-old is still one of Bollywood's biggest heartthrobs. And kudos to the babes who made the most of this once-in-a-lifetime opportunity for this PDA. Way to go, girls!