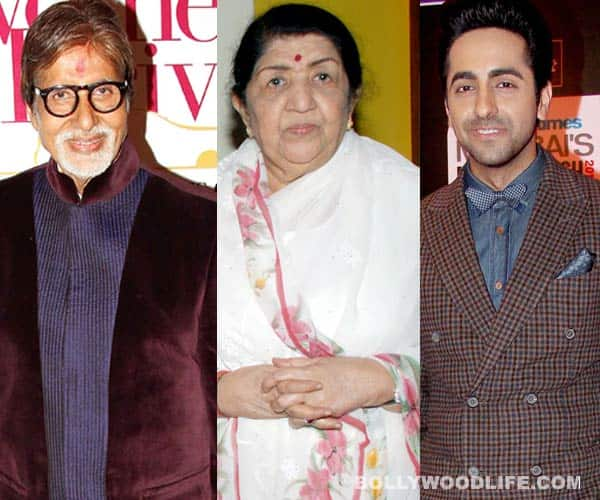 Here's a list of those unlucky celebs who died an early death, courtesy internet
Due to internet, media has become very fast in communicating news. But that's not always a boon. Sometimes a lot of fake news spreads around causing a lot of damage and chaos. What's even worse ism many celebs from Bollywood and Hollywood have suffered an early death on the internet despite being hale and hearty in real life. Only recently after Nanda's death, her close friend Asha Parekh's death was announced on Twitter by a journo, who obviously wanted to be the first one to tell everyone. But in his attempt to be the first one, what he tweeted wasn't a fact and only a rumour! Ashaji hasn't been the only victim to be killed by internet. Here's a list of others who were killed too!
Lata Mangeshkar: Before Asha Parekh, Lata Mangeshkar's death rumours had gone viral on the internet. Someone had started with the rumour that she had suffered a heart attack but she soon clarified at and announced that she is in pink of health.
Amitabh Bachchan: Even the legend of Bollywood, Amitabh Bachchan wasn't pardoned by the social media and internet. There were reports about Big B dying in a car crash which had spread like wildfire on the internet. What more, even his funeral details were posted on a fake blog. Sigh! But a gentleman that Big B is, he didn't react to these rumours.
Ayushmann Khurrana: The Bewakoofiyaan actor's death had created quite a buzz among everyone. People were shocked when they read reports about Ayushmann Khurrana's death in an accident while snowboarding in Switzerland! Well, too far-fetched, no? But of course everyone was tweeting RIP messages for Ayushmann when he finally announced that he is alive!
Dilip Kumar: The veteran actor's death was announced on Twitter by none other than Anurag Kashyap when Dilip Kumar was hospitalised. Of course, Kashyap tweeted apologies later but the damage was done. The fake news was viral on the internet. Somehow these fake news spread faster than the real ones, hai na?
Gul Panag: A website had reported that Gul Panag passed away in a jet ski crash. Well, there were mourners everywhere on the social media and internet. Finally, the model turned actor had tweeted that she is alive and kicking. What more, she had added that if she had to die, it would be something like this or on a bungee cord snapping.
Well, this list can go on as there are many more B-townies who have been killed by the internet… Everyone wants to be the first one to tell the world when someone dies. But if only people were more sensitive about death, hai na? Killing someone on the internet too should be a crime. Wink, wink! What say, BollywoodLifers?