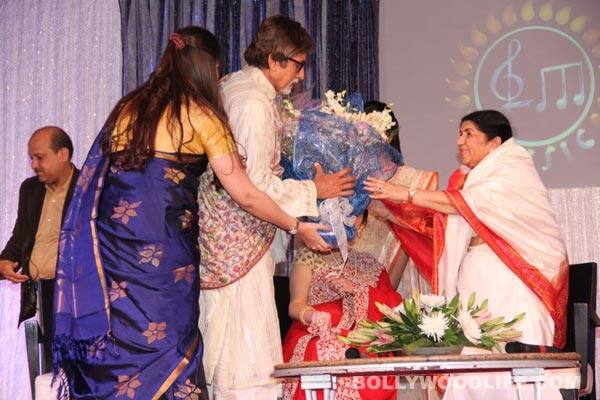 skip advertisement
Bachchan along with Pandit Jasraj launched veteran singer Lata Mangeshkar's music label LM Music
Legendary singer Lata Mangeshkar's music company LM MUSIC was launched in Mumbai on Sunday by Pandit Jasraj, Amitabh Bachchan and Nita Ambani at a star-studded function in Mumbai.  Bollywood celebrities like Sridevi, Boney Kapoor, Madhur Bhandarker, Alka Yagnik and Mahalakshmi Iyer were among those present.
Bachchan wished all the luck to the new label. "I am too small in front of all the dignitaries present here…. best wishes to LM MUSIC and I wish the company also becomes a precious stone like Lata," he said.
Later on Facebook, Bachchan said, "Lata Mangeshkar launches her music company LM Music and invites for to inaugurate it … honoured and humbled .. Pt Jasraj ji Lata ji on stage .. a most divine evening in the greats of classical and the most revered ..". He added, "Lataji felicitates me for coming and inaugurating her LM Music company … functioning mainly to encourage young talent… she is just an incredible picture of humility and grace .."
LM MUSIC will encourage young talent that needs an outlet for its creativity including budding artists who Lata feels have the potential to maintain the high standards set by legends. The label has six new albums including Sufi and spiritual music.
Jasraj said that there was no one who could match Lata's contribution to the field of music. "There is no one today who has contributed so much to music….she is the eight wonder of the world," he said.
Nita Ambani said that the launch marked an important day in her life. "This event is a landmark for all of us …Lata Mangeshkar is a living legend. She has enthralled millions of hearts all over the world with her music," she said. "For generations, women in my life have worshiped her voice, she has such an impact…thank you for making me a part of this journey," she added.
Photos: Amitabh Bachchan Facebook