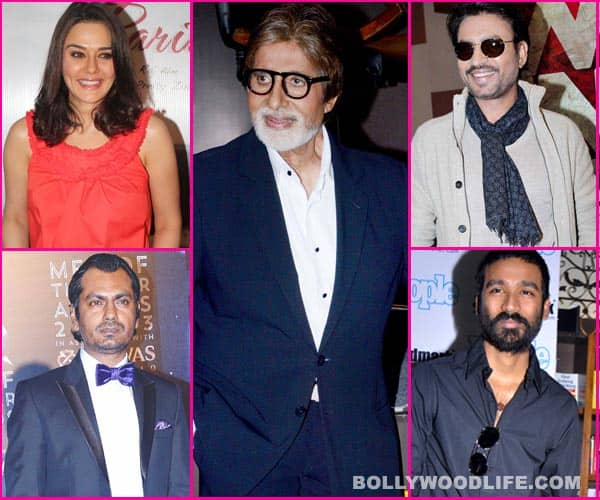 The megastar continues to entertain movie buffs even after over four decades and as the actor turned 71 today. Bollywood celebrities salute Big B on his birthday!
Amitabh Bachchan certainly will be smiling all day today and in the coming days if he reads what B-towners have to tell about the Shahenshah of Bollywood!  Celebrities like Irrfan Khan, Dhanush and Preity Zinta reminisce their favourite Bachchan songs, while Ayushmann Khurrana, Nawazuddin Siddiqui and Jackie Shroff tell us what they like the most about this superstar…
Irrfan Khan: God bless Mr. Bachchan's spirit and energy. My three favourite songs of Mr. Bachchan are Kabhi kabhie mere dil mein khayaal aata hai, Rang barse from Silsila and Tum bhi chalo hum bhi chalen, Zameer
Ayushmann Khurrana: He's playing the best innings that an actor could ever play. He's like the Sachin Tendulkar of Indian cinema. He's not only ahead of his contemporaries, he's also ahead of all current superstars. A perfect representative of Indian cinema. He's evolved with the changing times. That's what makes him a true legend. My three favourite songs of him? Chhoo kar mere mann ko – Yaarana, Khaike paan banaras wala – Don and Teri bindiya re – Abhimaan.
Preity Zinta: The Big B just gets better and better with time. His innings is just never-ending. I am close to the entire family. Aishwarya, Abhishek, Jaya aunty…I can't say I'm that close to Amit uncle. He is just so…up there, so distant and so mysterious. I am intimidated and awed by him. I've worked with him in three films. I had some meaty scenes with him in Veer-Zaara and Rituparno Ghosh's The Last Lear. Believe me it was a learning experience. My favourite songs? Kabhi kabhie mere dil mein – Kabhi Kabhie, Rang barse – Silsila and Choo kar mere man ko – Yaarana. The songs are a good indication of his awesome versatility.
Nawazuddin Siddiqui: Hazaaron saal jiye aap, swasth rahen (May you live for thousands of years and remain healthy). My favourite songs of Bachchan sahab are Neela aasman so gaya – Silsila, Do lafzaon ki hai dil ki kahaani – The Great Gambler and Rimjhim gire saawan – Manzil.
Jackie Shroff: He is one cool dude. My favourite songs of Mr. Bachchan are Yeh kahaan aa gaye hum – Silsila, My name is Anthony Gonzalves – Amar Akbar Anthony and Aaj rapat jaayen – Namak Halaal.
Dhanush: Before I tell you my three favourite songs of Bachchan sahab, let me tell you an incident about him. I was in Africa shooting for a film. A local asked me where I was from. When I said 'India', he said he knows three things about India – 'the Taj Mahal, spicy food and Amitabh Bachchan'. That is the kind of legend he is. Many happy returns to one of cinema's greatest icons. My three favourite songs of Bachchan sahab are Tere mere milan ki yeh raina – Abhimaan, Kabhi kabhie mere dil mein – Kabhi Kabhie and Mere angane mein – Lawaaris.