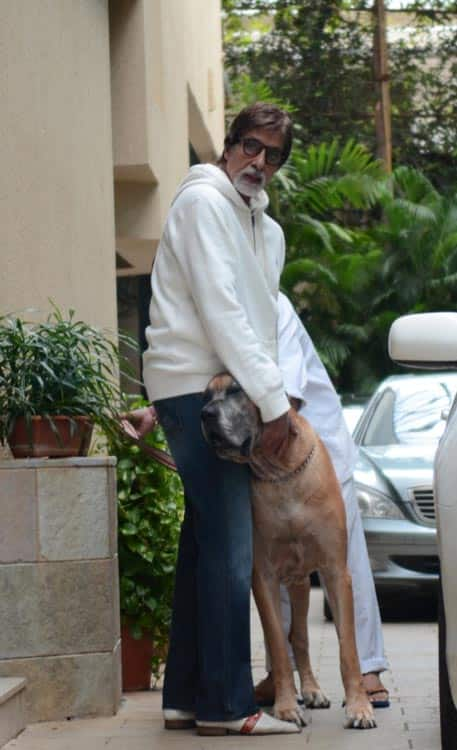 skip advertisement
Amitabh-Bachchan-3-200812
The veteran star has uploaded photographs on his personal blog. Proof of his undying stardom?
It might seem a little narcissistic when someone puts up pictures that glorify self and stardom. But somehow when Amitabh Bachchan uploads images of the crowds gathered outside his home Jalsa on a Sunday afternoon, with him smiling and waving to them, it seems just fine. After all, for years we have seen those crowds gather consistently outside his Juhu bunglow every day, untiringly. That is Big B for you! He's modest when he wants to be, fiercely guards himself and his family from the media, and then from time to time he lets people in and shows them that he is a star! And why not? He's the only actor of his generation who continues to enjoy stardom. So no point questioning the intention behind uploading those pictures, wethinks.
After all, his regular Sunday afternoon routine includes standing tall and waving to the hundreds of fans who gather outside the gates of Prateeksha and Jalsa to get a glimpse of him. It's almost a replica of the scene from Ram Gopal Verma's Sarkar, where crowds just want to get a view of Big B's wave and his namaste. The actor, who turns 70 on October 11, says on his blog, "The rain it raineth, a Sunday cometh and cometh the wishers .. wet, but enthused. Always there in all condition, a deed for which I carry great warmth, but regret what I could do in return for the affection. In a few weeks from now shall be the coming of my 70th, and the entering into the 71st. Seventy for some reason sounds better than 71."
He has also uploaded a photograph of his dog Shanouk – and we couldn't help but go aww looking at it. He writes, "The expression on Shanouk's face says it all I think .. he feels a bit left out on such Sunday events, but does go out to greet the crowds a little later.. ha ha !!" Guess even Big B's dog knows that he has one of India's biggest stars as his master.