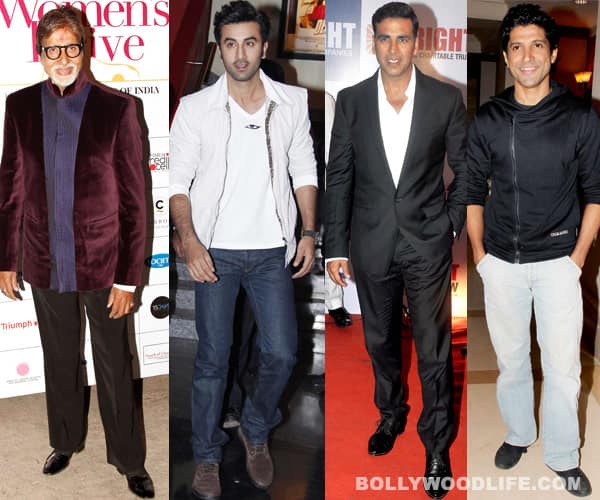 B-town's biggest celebrities to walk for the vetran actor's NGO
Years after Kaifi Azmi wrote the moving poem Aurat, envisioning women empowerment, his daughter, veteran actress and social activist Shabana Azmi, is bringing together Bollywood's iconic male actors like Amitabh Bachchan to walk for her NGO Mijwan Welfare Society (MWS) to support the cause.
The idea, she says, is to convey that "the man cares for the woman".Amitabh, Akshay Kumar, Farhan Akhtar, Ranbir Kapoor and Sidharth Malhotra – all belonging to different generations of the Hindi film industry – will walk the ramp to show their support towards emancipation of the female gender.
The show – Men For Mijwan by Manish Malhotra, is in support of MWS, an NGO founded by Shabana's father, a well-known poet.
"What is unique about the event is that iconic male stars from different generations, whom we are referring to as MEN OF STYLE will be walking the ramp for the empowerment of women in rural India
"'The man cares for the woman' is the message we wish to convey. This is an idea whose time has come. There is much greater awareness today that for a healthy society, male participation in women's empowerment is the need of the hour," Shabana told IANS.
The aim of the NGO is to empower rural India with a focus on the girlchild and women, and it is now jointly run by Shabana and her godchild Namrata Goyal.
The fundraising fashion show will showcase creations made using chikankari art by Mijwan girls. It will be held April 1 at the Grand Hyatt here.
"It is very heartening that my colleagues in the film industry whom we approached, were all aware of Mijwan and warmed up to the idea and I am truly indebted to them for their support," Shabana said.
"In fact, they have been forward in spite of gruelling film schedules. Some will come straight from their shooting, while some need to go back for a night shift, but they are accommodating us because the issue is so important," she added.