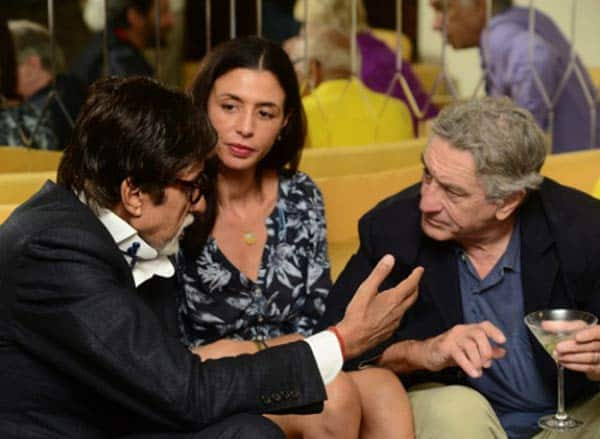 skip advertisement
After 35 years, Hollywood veteran Robert De Niro was in India for the second time and our B-town celebs just can't stop gushing about him. Big B, Ranbir and even the very busy Exotic babe took time off to meet this legend but the list doesn't end here…..
Amitabh Bachchan, Ranbir Kapoor, Priyanka Chopra, Anil Kapoor, Varun Dhawani and Anupam Kher recently were amongst the few Bollywood actors who were fortunate to meet Robert De Niro. They posed with him, took his autograph, and some even had intense conversations with him.
After all of which these actors took to the popular micro-blogging site Twitter to share their moments – their pictures with the Acting thespian. The first one to meet the Oscar winning actor was the Shehenshah of Bollywood and he was also the first to share his magic moment with fans. The two legends met at THiNK fest Goa and Mr Bachchan was so thrilled that he quickly posted on twitter, "Just finished my conversation at THINK..exciting and exhilarating .. and in the audience Mr Robert De Nero !! (Stumped for words !)" In his picture with De Nero, the Satyagraha actor looks engrossed talking to the Silver Linings Playbook actor. Maybe the two were discussing films or a film that will bring them together? This definitely was a Kodak moment that can be captioned – Legend meets legend! (Bollywood legend meets the Hollywood legend). Couldn't get better, hai na?
Anupam Kher met his Silver Linings Playbook co-star day before yesterday. A Wednesday actor was in for surprise since Robert De Niro landed at his acting school. Kher tweeted, "Making Robert De Niro sit in my chair in my off actor prepares will always be the Greatest joy of my Life. :)" Their picture together certainly reflects the special bond the two share, and why not hadn't Anupam Kher dedicated one entire film for this star – I went shopping for Robert De Niro! Anil Kapoor was also at Kher's acting school and a look at this picture and the animated conversation certainly gives us feeling that this duo bonded really well. Another Hollywood film for the 24 actor? We'll wait and watch!
Bollywood's Gen next wasn't far behind – Ranbir Kapoor and the Student of the Year actor were the lucky ones to meet De Niro. The two totally looked in awestruck. The Kapoor lad was seen seeking De Niro's blessing at one time and then trying to take a nap on his lap. After a long time we spotted RK Jr with this happy look, now Katrina Kaif certainly knows the secret to make Ranboo smile. Junior Dhawan had a perfect fan moment. The young actor was all pepped up and even managed to get an autograph. Priyanka was the only one who had a celebrity meets celebrity moment –  the Exotic babe's calm and composed look was a clear cut sign of her growing up from an Indian artist to an international pop star. We're sure she got De Niro to sing 'feeling so exotic' in her company.
While we have tried to describe Bollywood's this encounter with Robert De Niro, you tell us what do you think about these pictures BollywoodLifers?