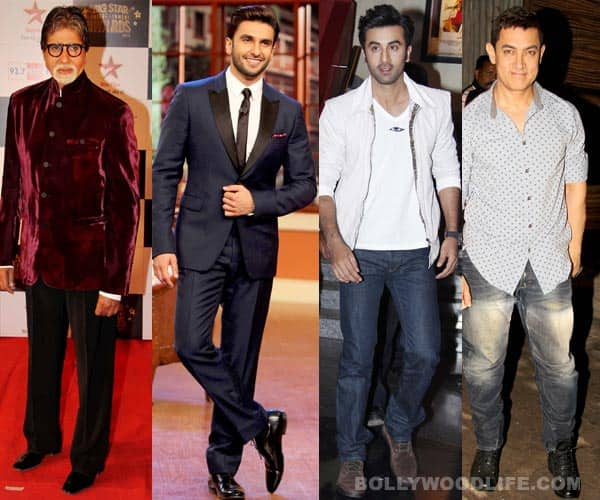 skip advertisement
A car can say a lot about the person who owns it. But do B-town biggies have swanky four wheel rides that truly reflect their on and off screen personas? Let's find out!
Recently Hasee Toh Pahsee babe Parineeti Chopra gifted herself a swanky Jaguar. The luxury-on-wheels mean machine can set you back by a minimum of Rs 90 lakh. The spunky star has been saving up from the time she entered the industry to buy a house, but decided she wanted the car more and splurged. This news made us take another good look at the cars that B-town celebs own and try and figure out if their plush rides match their popular image.
Amitabh Bachchan: Much like his towering personality and larger-than-life iconic public image, Big B drives cars that are massive, sturdy and world class. He used to have a Bentley Arnage R and now travels in a Rolls-Royce Phantom. We have even seen him driving his humble Toyota Camry. The man of the millennium sure knows how make a statement, even with his vehicles!
Ranbir Kapoor: The ultimate ladies' man of B-town knows how to woo the girls with his flirtatious personality. His slick and stylish red Audi A8 with plush red interiors and his giant white Range Rover, a mix of elegance and luxury only add to his charm. The Kapoor scion knows how to paint the town red with those stunning hot wheels.
Ranveer Singh: The Lootera actor's black Jaguar XJ sparkles audaciously and we can't help but envy the young dude for that prized possession. But we have a suggestion: The hyper-energetic dude should own a multicolour four-wheeler that can reflect his live-wire tag and colourful image.
Anil Kapoor: If the black BMW talks about Anil Kapoor, the jhakaas hero who woos even Hollywoodwallas with his age defying charm, the bronze Safari Storm he owns now symbolises how the evergreen star stormed into our collective consciousness as the daredevil Anti Terrorist Unit chief Jai Singh Rathore in his hit television series 24 – heroic machismo indeed!
Shahid Kapoor: The chocolate boy turned rugged Rajkumar, Shahid Kapoor has a black Range Rover that stands for the man's exquisite taste and ambitious personality. We wish Shahid would choose his films equally carefully, with as much finicky attention as he selects his cars!
Karan Johar: We were amused to see KJo in a spotless white beauty( A swanky Jaguar). After all, the chatty host with a creative mind and a flair for fashion, style and designing should travel in something more dhinchak and personalised. Something that can get us talking…perhaps to fire rapid questions at him, no?
Imran Khan: The light-eyed dude can be seen at the wheel of a flashy and unabashedly audacious, fully-customised Ferrari, driving through the bylanes of Bandra. Imran is not a flamboyant star who will show off, but hey, if the ever so quiet and shy master-blaster Sachin Tendulkar can flaunt his red Ferrari with panache, why can't the coy Khan show off his wheels without fuss, right?
Aamir Khan: The megastar looks like a tiny tot when drives his white Toyota Fortuner. Wethinks Aamir can make more dhoom if he chugged along in a sexy and compact Beetle! After all, perfection is possible on four wheels, wethinks.
Parineeti Chopra: The Ishaqzaadi is certainly raising the bar in terms of her acting skills. And she deserves every gift possible to celebrate the string of her cinematic successes. Last year Pari bought her parents a new car and recently surprised everyone by buying a Jaguar. At 25, things can't any get better than that for the publicist turned actor, no?
Anushka Sharma: The gorgeous discovery of the Yash Raj Films camp owns a sparkling Range Rover. Now this very solid car may not quite match Sharma's bubbly image, but it certainly has the style and attitude that perfectly matches a certain Kohli's mannerisms. The star batsman was reportedly driven in this car to Anushka's pad in suburban Mumbai when he landed in the city after his cricketing tour.
Priyanka Chopra: Fiercely competitive and unbelievably professional, this jungle billi is right at the top of her game. And her up-scale black Jaguar defines the feline attitude that is all about being PeeCee! And do we notice a certain family resemblance here in kid cousin sister Parineeti's new car?
Sonakshi Sinha: No link ups and no nonsense – Sonakshi Sinha means business. The spotless white BMW suggests the Dabangg lady's squeaky clean image. And we love the gal with that white steed she rides in!