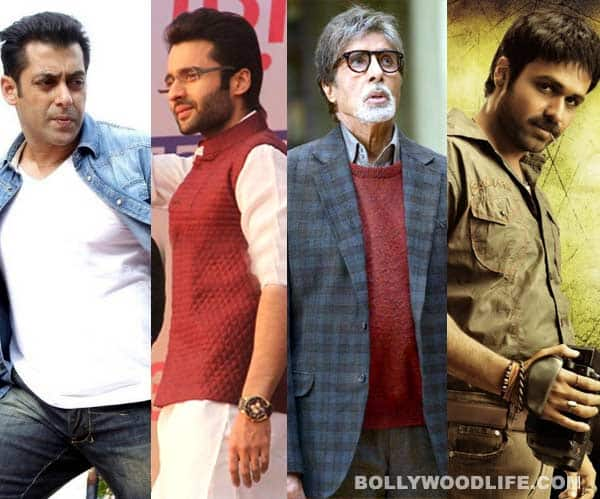 The general elections are just around the corner. Young India is in search of dynamic leaders who can pull the country out of the relentless social and economic gloom with their awe-inspiring leadership skills. Cinematically speaking, many B-town heroes have given us hope with their incredible endeavours. Take a look at these stalwarts from reel life and tell us who can become a role model in real life too when it comes to inspiring young minds and bring about a much-needed change
With election being the buzz word, our B-town movie makers are eager to cash in on anything that can bring about a social change, for the better. From the baap of Bollywood Amitabh Bachchan using his supernatural prowess in his forthcoming movie Bhoothnath Returns to contest an election to bring some order in the politically and morally corrupt society, young lad Jackky Bhagnani is eager to introduce a movement of sorts to place India on the global map and give the country its rightful due. And then there are two rookies- charged with tremendous confidence and incredible passion-who are all set to do a pardaahfash and to set the country in order with their might as journalists. Yes, Atul Agnihotri's forthcoming movie O Teri will see duo Bilal Amrohi and Pulkit Samrat unearthing some shocking scams.
Take a look at these onscreen leaders who gave us a cinematic hope with their heroism and tell us who inspired you the most?
Amitabh Bachchan in Bhoothnath Returns: With his towering personality, megastar Amitabh Bachchan will unleash his funny as well as intimidating streak in the sequel to 2008 horror-comedy Bhoothnath. As the friendly neighbourhood ghost, Big B's Bhoothnath will be seen fighting the elections. His helpful presence will be seen only by children while adults remain blind to his magnanimous personality. Mr Bachchan will employ his rich baritone, his tall frame and the generosity of his 'spirit' to best effect to deliver justice.
Jackky Bhagnani in Youngistaan: The young dude brings the energy and perspective of the youth with his personality for positive changes India has been craving for long now. A young and dynamic leader with a vision to build India is what the country needs and Jackky is playing a strong character in his forthcoming release Youngistaan. The lad wants to put India on the map with his zest and meticulous planning.
Amitabh Bachchan in Satyagraha: The veteran played a Gandhian in Prakash Jha''s political drama Satyagraha. Big B might have played a traditionalist who walks the path of truth and honesty, but he is equally modern with his approach when it comes to fighting against the system to clean up the mess. He uses the power of social media to spur a political movement that snowballs into a corruption hatao aandolan. But the path to a clean and corruption-free state is straddled with many challenges, dirty politics and blood-bath. And yet the veteran actor chooses to fight till he takes the battle to its logical conclusion.
Salman Khan in Jai Ho: The Being Human actor upholds some really inspiring qualities in real life. We all know that Salman is kind, generous and compassionate. The 48-year-old took a leaf out of the book on his own life, so to say, to portray an ex-army officer in Jai Ho who is on a mission to create a chain of goodness for the betterment of humanity.
Emraan Hashmi in Shanghai: Dibaker Banerjee's Shanghai traced corruption in India at its regressive best, masquerading in the garb of economic progress. Emraan Hashmi played the pot-bellied, 30-year-old Rajput struggling to make a life, resorting to the easy way out as a porn videographer. But the sudden transformation in his grey character-when Hashmi decides to take on the system with all his worth was jaw-dropping. It simply showed the might of a commoner who can turn things around if something within him gets stirred.