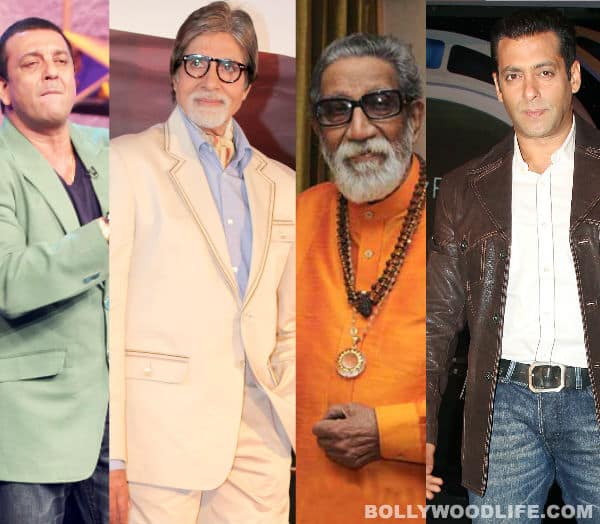 With the news of popular cartoonist-turned-politician Bal Thackeray's critical state of health going public late last night, the politician's well wishers from Bollywood dropped in at his residence to visit the ailing politician. We wonder why Bollywood is so mesmerised by the founder of the Shiv Sena….
Shiv Sena leader Bal Thackeray's remarkable graph, from cartoonist to popular politician has not only left an indelible mark in the minds of Maharashtrians, but popular Bollywood celebrities too, who have great respect for the politician.
Sanjay Dutt didn't waste any time visiting the ailing Shiv Sena chief at his residence last night, as soon as he heard the news. History has it that Thackeray played an instrumental role to set Sanjay free from prison when he was accused in the 1992-93 bomb blast case. It is said that Sanjay's father Sunil Dutt pleaded with Thackeray to help his son.
Salman Khan, along with his father Salim Khan and brother Arbaaz Khan dropped in on the ailing politician this afternoon. Not many know that it was Thackeray who set Salman free from the controversy of the audio tapes and his involvement with a terror case controversy that drew in his then-girlfriend Aishwarya Rai.
Amitabh Bachchan also reminisced about the strong relationship he shared with Bal Thackeray over the years. He tweeted about the time Balasaheb visited him in hospital after the accident on the sets of Coolie. The Shahenshah of Bollywood recalled the time when Thackeray stood by him during the high-profile Bofors scam.
Lata Mangeshkar, who considers Thackeray family, tweeted, "I am extremely disturbed and concerned about the critical health of Shri Balasaheb Thackeray. In view of this, I am postponing the function of my music company to a later date. My prayers are with Balasaheb and the entire Thackeray family."
After an overnight vigil by doctors, family and followers, and many hours on life support, Bal Thackeray is reportedly showing signs of improvement and has been taken off the machines. We wish the Sena supremo a speedy recovery.