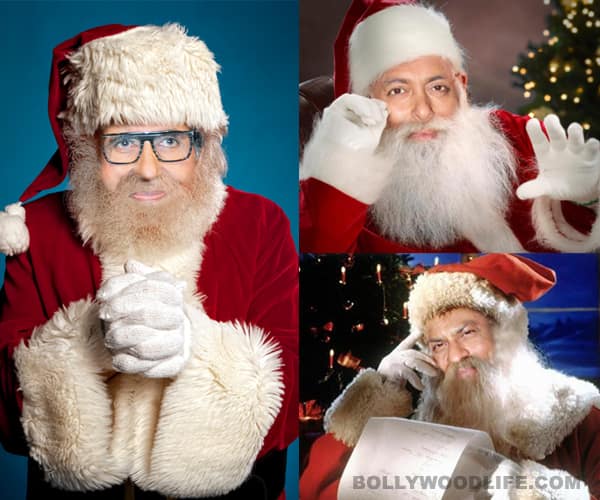 skip advertisement
This year we decided to capture the various moods of the man in the red suit on our very pink website. In our zest to find the perfect Santa, we turned our gaze at Bollywood stars to find the happiest man ever who would be willing and able to take us on a fun sleigh ride….
We at BollywoodLife refuse to believe that Santa Claus is just a myth to charm children on Christmas. With so many Bollywood stars sparkling with amazing energy and incredible naughtiness, we can clearly see the man in red on his sleigh with nine reindeer flying in front of him right before us, right now! Can't you just see Santa Claus showing off various sides of his happy personality, maybe doing a little song and dance while he gives out presents to the nice and a lecture to the naughty? But which celeb will give everyone reason enough to go ho-ho-ho this Christmas? You tell us…
Amitabh Bachchan as the generous Santa Claus: It's not just his facial fuzz (and slight paunch… giggle!) that makes the big daddy of Bollywood the ideal Santa Claus. In fact, Senior B's happy face, the warm glow he has about him and the generosity of his spirit, all nicely encased in trendy red velvet jackets clearly make the man a strong contender for the post of perfect Santa. Just hear Big B go ho-ho-ho in his trademark deep voice and you will be convinced that he could be a very happy Santa!
Ranbir Kapoor as the colourful Santa: Think of Santa and you think red. But such are the kaarnaamaz (interesting deeds) of the Kapoor lad that he can easily qualify to be a Santa of a unique category – the most colourful. Be it his much-talked about vacation in Ibiza or his string of hot girlfriends, Ranbir definitely qualifies to be a naughty Santa!
Salman Khan as the protective Santa: No one dares to take panga with the ultimate bhai of B-town and that makes Salman the most protective Santa that you could think of. So just drop your worries, put a smile on your face and celebrate 'Being Human', for Sallu the Santa is all set to wipe all your tensions away with his kindness and solid muscle power!
Aamir Khan as the intelligent Santa:The shorty Khan accepts nothing ordinary. If Aamir was Santa, he would definitely be very particular about the perfection of his red robe and the smoothness of his ride. He would even ensure that his beard was perfectly trimmed and the reindeer were in perfect form! With his tremendous creativity and his ability to think before every move, Aamir is certainly the most intelligent Santa. We just wonder what gifts he would dole out as the thinking Santa – Rubik's cubes and chessboards, anyone?
Shahrukh Khan as the smartest Santa: There is potential danger lurking with this Santa. His loud mouth and wisecracks can land you in trouble, but it is this same Santa who could get you out of that sticky situation with his relentless charm and the power of his mega-stardom. Not to mention his tongue-in-cheek humour and sharp wit – that would keep you ho-ho-ho-ing for ages!
Hrithik Roshan as the sexiest Santa:The Greek God of Bollywood has everything to make him the sexiest Santa ever. His effortlessly swift dance moves, that hot body and those killer looks would certainly raise the mercury, even in the cold of winter!
Anil Kapoor as the evergreen Santa: The only problem with Anil Kapoor being Santa is that he would never look old. So forget the long white beard, cute paunch and wrinkled face that Santa is known for. This one would be an ever-youthful, zestful and absolute jhakaas version instead!
Govinda as the roundest Santa: He can certainly make for a true desi Santa. His amazing sense of humour, his ever smiling round face and his well-filled body could make Govinda the healthiest and the most fun Santa to be with. And of course, there would be amazing dance routines that the reindeer would need to keep up with…
Akshay Kumar as the kick-ass Santa: Akki's high-flying kicks, his comic timing and his sculpted features make him a potential sexy Santa who can kick a few nasty butts with panache. The Khiladi Kumar's popular histrionics and daredevil stunts would certainly make a sleigh ride with him a thrilling experience!