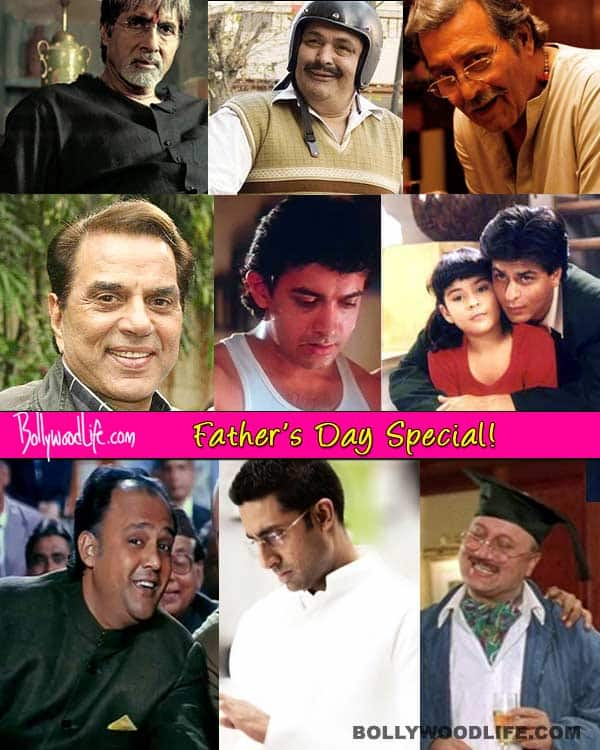 A look at filmi dads to celebrate Fathers Day in filmi ishtyle
Bollywood has always been run by the lead hero and heroines, but the fathers and mothers of the films have always remained the unsung heroes. The character of mother has always been portrayed as caring and sweet but the character of father has kept on changing with the mood of the film. Here are some of the various character shades of dads:
The cool dad
Anupam Kher (Dilwale Dulhania Le Jayenge) and Shah Rukh Khan (Kuch Kuch Hota Hai) have shown the world what being a cool dad is. Anupam's role in DDLJ as SRK's daddy cool, and the Chennai Express actor's act as Anjali's father is still etched in our memories and each time we watch these films we are wowed by their performances.
The possessive dad
Aamir Khan (Raja Hindustani, Akele Hum Akele Tum), Akshay Kumar (Jaanwar) and Amrish Puri (Dilwale Dulhania Le Jayenge) have been the iconic possessive dads of B-town. They have reminded us time and again that our dads may go up to any extent just to protect us from any evil. At times they might look devilish themselves, but at the inner core they do love us the most.
The caring dad
Rishi Kapoor (Do Dooni Chaar), Farooq Shaikh (Yeh Jawaani Hai Deewani) and Abhishek Bachchan (Paa) have shown us how caring our dads can be. They not only give us our freedom, but also take care of any problems that we face. With their performances they have always reminded us of what all our fathers could do just in order to protect us from any harm.
The sanskari dad
Alok Nath (Maine Pyar Kiya, Hum Aapke Hai Kaun, Hum Saath Saath Hai) and Sunil Dutt (Munnabhai MBBS) have been the true followers of their culture. They have done everything just to make sure that we follow the rules and regulations. They have made sure that we don't deviate from the path of truth and always be honest no matter what.
The arrogant dad
Dharmendra (Apne, Yamla Pagla Deewana), Amitabh Bachchan (Sarkar, Kabhie Khushi Kabhie Gham, Mohabbatein) and Vinod Khanna (Dabangg, Wanted) have played the arrogant dads with aplomb. They reminded us that they may be rude and harsh to on face, but at heart they definitely love us a lot. They would do anything just for us.