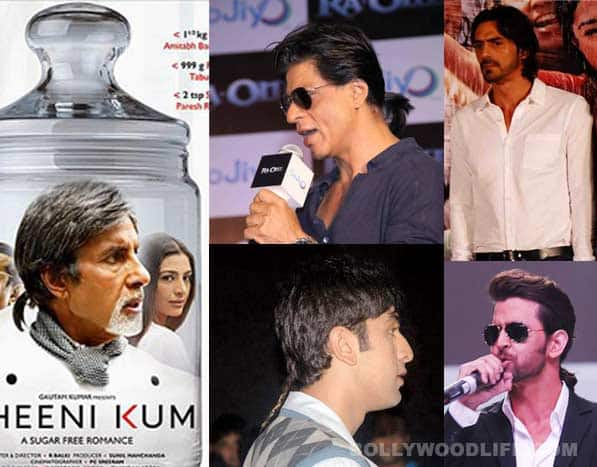 If you think that hair tied back is the easiest 'do ever, think again. So many Bollywood hunks have tried every trick and some to make this seemingly casual style, uber cool. But who succeeded and who needed to visit a new stylist? You tell us….
The ponytail is the easiest hairdo to opt for when you have almost no time to spend fiddling with your mop of long hair. Run your fingers through locks, pull back your hair on the sides and tie up the bunch of loose strands. And… voila! You are ready to face the world and its cameras. Now that's the definition of a ponytail in a perfect world. But in reality, that seemingly simple hairdo is tricky to achieve and difficult to carry off. Tie it too tight and it will look like a messy mass of matted hair; too loose and it will be frizzy and unkempt.
And B-town men – from big daddy Amitabh Bachchan to the ultimate King of filmdom Shahrukh Khan and from chocolate lad Shahid Kapoor to livewire energy bar Ranveer Singh – have tried their best to look macho and hautely happening with a sleek and shiny tail. Some have been woefully short, others a wild mane barely restrained. Some got it just right, others need to find a new hair stylist. But you tell us, who got it right?
Amitabh Bachchan: Mr Bachchan has the style, the spunk and most importantly, the height to carry off a ponytail as a suave and seasoned master-chef at an exotic Italian restaurant. In fact, he grew a salt-n-pepper ponytail for his role of a London-based chef in R Balki's Cheeni Kum. And with his swagger, it brought a breath of fresh air to Big B's personality that was drool-worthy. We want Amitabh to to pull his hair back once again in that cute little tail!
Shahrukh Khan: He made the bad-guy ponytail look daredevilishly different in Farhan Akhtar's Don 2, but we din't approve of that look too much. But we loved SRK's cute extension of silky hair the way he did it in Om Shanti Om!
Arjun Rampal: His chiseled body, strikingly solid facial features and tall frame make him the best man to wear a ponytail ever. From Rock On!! to Ek Ajnabee, Om Shanti Om and Don, Rampal sported the cool-dude 'do with model-chic and Mafioso cool. Nobody wears a ponytail like this Adonis can!
Shahid Kapoor: The cutie boy surprised us with a little pigtail when he had done a little growing up and tough made its presence felt in his body and soul. Frankly speaking, the hairdo would not have worked on Shahid five years ago, but maturity, facial fuzz and hardcore roles like in Kaminey and R..Rajkumar have given Sasha the right cachet for a 'tail.
Ranbir Kapoor: A big NO! Ranbir tried to look hatke with his braided pigtail in Barfi! but did not impress us with that look – Rockstar had already lost him the ponytail plot…
Hrithik Roshan: The Greek God of Bollywood owns any look he adopts. But surprisingly, the light-eyed dude has not impressed us hugely with his pigtail he sported in Krrish 3. Not yet, at least. Lekin ti