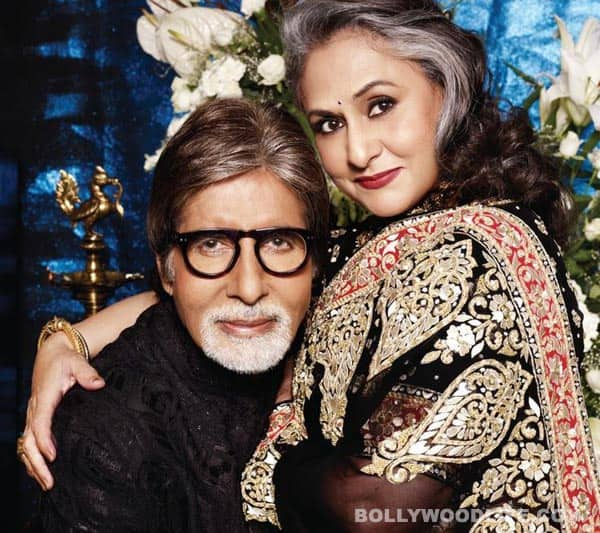 The legendary B-town actor says it seems he got married only yesterday
Amitabh Bachchan said he was alone on his 40th wedding anniversary, as wifey Jaya Bachchan is away in New York, and son Abhishek Bachchan and daughter-in-law Aishwarya Rai Bachchan are in London.
Sr Bachchan tweeted last night, "It is past the hour of 12 midnight and time to acknowledge 40 years of our marriage .. June 3, 1973 .."
He wrote on his blog on Tumblr: "40 years !! 40 years of marriage on the 3rd of June 2013 .. ! Jaya and I in marriage for 40 years ..! A lifetime almost ! Seems like just the other evening I had driven with my parents to a friends place on Malabar Hill, in the Southern region of the city, and to a very quick, no fuss, no 'taam jhaam', family and a few friends, and a few close media, wedding. A wedding that had the fulfilment of a promise, that if 'Zanjeer' succeeded we would get married ! Here we are now, two children and three grand children, son in law, daughter in law, relatives and 'samdhi's' in our family fold. God has been very kind!"
He added, "The family is away .. in New York and in London on matters that deserve presence and attention greater than a celebration, so I stay with the memories alone .. not in the real sense, for communication is so instant rapid and finite that, distances have been reduced to a mere mention of a destination."
He drifted, "The awe and the unapproachable mention of these far off places has disappeared .. they are reachable unlike old times, if not physically but almost so virtually .. generation after generation shall enjoy perhaps the benefits of this, and who knows the time factor too shall be greatly reduced. The Concorde flying one to NYC from London in three hours was unthinkable. Today they are already talking of reducing that distance to 45 mins, by entering space and reentering it .. who knows what the future shall hold."
The legendary actor thanked everyone on Facebook, saying, "It is the generosity of fans well wishers and friends that greet us today for the 40 years of togetherness .. so much has gone by, so much has been seen and so much affection given by all concerned .. seems just like yesterday that I drove over to a friends place for a simple quick wedding .. and then we were off to London .. my very first trip to a foreign country, excepting Nepal in 1956 .. the thrill and the joy of not just the visit, but also the feeling of now a married man .. unique !! The marvels of the mind .. "
The actor also shared some pictures sent to him by his extended family – EF, as he likes to call them, comprising his fans around the world.
Hope Jaya, Abhi, Ash, baby Aaradhya Bachchan and daughter Shweta Nanda and family join Big B soon!
Photos: Amitabh Bachchan Facebook