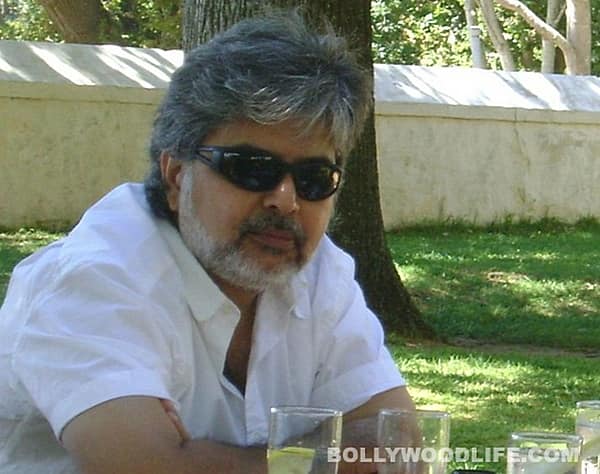 The actor-director who excels in film, theatre and television talks to us about his play Bombay Talkies, his TV show with Vikram Bhatt, and why he thinks Bollywood and its actors are no good
Classic good looks, articulate, artistic, maverick, dynamic – just some of the words you look to use while describing Vikram Kapadia. And yet he is one of the most under-utilised and under-exposed actor-directors of India. Born on September 2, 1961, Vikram is known for his exemplary work in television and English theatre in the country, Vikram has starred in an international project as well. He is also the Indian face of a line-production company in Cape Town. But he just doesn't believe in rubbing it in, as probably an Anil Kapoor would. Vikram is currently working in filmmaker Vikram Bhatt's TV production exclusive to DTH, called Bisaat Rishton Ka (earlier titled Kurukshetra). Also, his play Bombay Talkies that premiered to a packed audience in Mumbai is now touring India with great success, and he is on to his new play now, The Greatest Show on Earth. We chatted with the multi-hyphenate Vikram Kapadia on location his TV show. Excerpts:
Fond of horses and racing – not gambling, he specifies – Vikram is as thoroughbred as they can get. (He bought a horse called Saints and Sinners, no less!) Handsome, funny and confident, this is the kind of gentleman who would impress women without trying too hard. Brought up in South Bombay, Vikram's pad is now in the Bollywood hub of coastal Yari Road in the Western 'burbs. Not quite the Sunset Boulevard of Mumbai, which could be Bandra, but close to it. But then Vikram never aimed at being the conventional B-town actor. He is clearly not after the money, either. "I don't look for work in Bollywood," says he. "Bollywood is like a dead pitch – the ball doesn't come up to the bat."
No Bollywood at all then? "I am working on a couple of screenplays, one for Aziz Mirza, and another one I cannot talk about," he opens up. "I also might direct a film based on my play Black With Equal." Would you bring in your experience on your German project? He is game. "I did a film for German television, Rebecca Ryman: Wer Liebe verspricht with the legendary actor Mario Adorf. I played a Maharajah in it. On the sets, everyone came prepared with makeup and costumes on. And even for individual shots, there was real acting happening from everyone. There were no 'cues' – as happens here – but everyone was acting so that the actor in the shot can give the perfect reaction. Ninety percent of acting is reacting in any case," Vikram shares, explaining that it's this system along with the discipline he saw there, which he wants to bring to Bollywood. He has also done a film called A Decent Arrangement with Shabana Azmi, which was an international project directed by Sarovar Banka.
What is his take on Anil Kapoor's Hollywood journey? "He has limited talent but he is a very hard worker. He rehearses to the point of getting bored. But in India, it is all about hype and not actual work," feels the dynamic director.
So which are the actors he likes from the current crop? "Sharman Joshi, and Aamir Khan to some extent." Amitabh Bachchan? "He was great in his heydays, but he is a victim of his own mannerisms now. He ends up imitating himself. He had some great moments in his youth. He could've changed the industry but he was not interested. He stuck to only mainstream. He needs to do a Hrishikesh Mukherjee kind of film to get back in the groove. Of course, he is an amazing talent and he is one of the best we have. But as a kid, it was Shashi Kapoor I looked up to. We used to pass by his house every day and spotted him. I remember feeling that I must be like him."
"I feel Aazaan was better than Shahrukh Khan's RA.One and Don 2 in terms of cinematography and editing. Aly Khan was the common actor in both films. But in Aazaan, at least no one was annoying," smirks Vikram, pointing out that he found SRK rather irritating in the Don sequel and that there was no logic to the proceedings.
But is it Bollywood's way of functioning that made him invest in a film company in faraway Cape Town? "I am the Indian face of a company called Network Cape Town. We do line-production for shoots all over Africa and even in the Indian Ocean. As for the business aspect of it, it's a tough one. It is not easy to get people to shoot with us, as some of them already have the contacts (in South Africa). The only way is to probably cut someone's clients," quips Vikram, sounding not too kicked about his assignment.
Venting out more frustration on Bollywood, "The standard is so low, we have hit the bottom of the pit. We can't get any lower. But there are directors like Anurag Kashyap and films like Aamir Khan's Peepli:Live which are different. But I am only talking about Bollywood. We have the regional industries which have some good films."
NEXT: Vikram on Bombay Tallkies, Anna Hazare and theatre & Vikram on YRF and Bisaat Rishton Ka