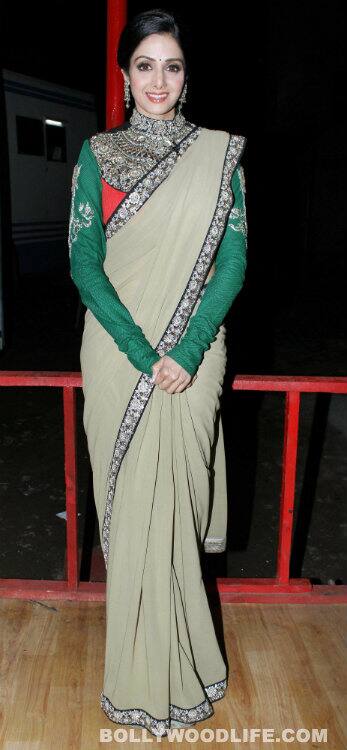 skip advertisement
The English Vinglish actor's general knowledge will soon be put to the test. Is she up for it?
The sixth season of Amitabh Bachchan's acclaimed quiz show Kaun Banega Crorepati? has taken the television world by storm, we know, you know. So what platform could be better to promote Sridevi's upcoming movie English Vinglish, right?
And precisely for that reason this mother of two lovely daughters has decided to turn up on the sets of KBC 6. Ahem ahem. There will be laughter, English translations (of course!), promos and, but obviously, those multiple choice questions. So is our lady prepared? We hope so.
And if – God forbid – she is not, then would AB drop subtle hints for the damsel in distress? 'Coz it really looks as if Amitabh is impressed by the diva's persona. Why, he even tweeted about it saying, "still the same… effervescent, spontaneous, delightful." Oooh! What's more, Amitji will be seen in a cameo role in English Vinglish too! And then there are those movies – Aakhree Raasta (1986), Inquilab (1984) and Khuda Gawah (1992) – in which the duo have starred together.
Hmm, so does Mr Bachchan have enough reasons to be partial towards Sridevi on the hot seat? Tell us, readers!